Get to know Billy McNeil
Find out more about Billy and his BCS responsibilities...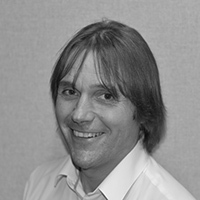 What do you do in your role?
I'm responsible for the IT group, providing the systems and technology the business needs to operate. I'm also responsible for the Operations team, who fulfil the wide variety of products and services we provide to customers. Last, but not least, I'm responsible for the Transformation team who implement new systems and processes to update and improve how the business works.
Why BCS?
I've always wanted to work in an organisation where I can clearly see the outcome of my work directly making a difference and be involved at all levels so I'm never bored. At BCS, I have that opportunity and I can bring my experience from other organisations to make a real positive difference. I have been an IT professional since the very early 1990s and very much identify with the purpose of the organisation which makes working at BCS even more compelling.
What's the proudest achievement in your career?
Two things stick out. Firstly. completely replacing all the legacy, non-Y2K compliant business systems in a large business in the late 1990s, with a whole set of new in-house written web based systems. 20 years later, they're still in place and now running in MS Azure! Secondly, developing and implementing the Education National Intranet for Scotland from what was a blank sheet of paper in 2005. Again, it's still in place today, and is now known as Glow Scotland.
Where do you think computing can have the biggest impact in society?
Computing can have hugely positive effects on human activity, helping us to understand our whole environment as well as each other much more deeply than we would otherwise be able to do.
The more we understand, the more we are able to do to improve the life experiences of everybody across the world and manage our human future. However, computing can be seen as a negative influence on the world when misused (abuse of personal data, lies portrayed as truth on social media, weapons technology, loss of jobs to automation etc…) which is where ethical use of computing is so vital.
There are so many positive aspects of computing to list (healthcare, energy generation, transportation, education…), but we have to work hard to try and avoid the hugely positive impacts being clouded and misunderstood by the negatives of misuse.
What's your favourite drink?
I've got two favourite drinks for different circumstances. My favourite whisky (being Scottish) is The Macallan. This is great for a winter's night in front of the fire. Cotswold Lager (from a micro-brewery in Bourton on the Water in the Cotswolds), is my favourite cold drink and is great for summer afternoons in the sun.