Aaron Kincher, RITTech
Cyber Security Consultant for IBM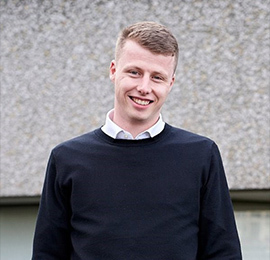 What is your current role in IT and do you have any future plans for your career?
I currently work as a Cyber Security Consultant for IBM. My main responsibilities involve implementing a database activity monitoring solution for clients across the UK and Ireland.
I deal with some of the world's biggest banks and insurance companies who are looking to protect their data against unwanted attacks or who simply want to monitor the daily activity in the database.
At this stage of my career, I'm currently working on the technical side of implementation which is thoroughly enjoyable. However, moving forward I want to start incorporating the consultancy side of my role whereby I can meet with clients, understand their requirements and then build it into a solution.
When did you become RITTech registered and how did you find the online process?
I was first registered with RITTech at the start of September 2016. The online process was unique; I had never experienced anything like it before, it was almost like being interviewed over the internet. It was good that each question was relatable to your day to day work.
I'd also say that once I'd completed the application, I saw areas in which I needed to improve, such as taking more leadership amongst my team and initiating some of my work more so than before.
What does being RITTech registered mean to you?
It gives you a sense of pride that you're registered with the leading society for technology and computers across the UK. BCS, The Chartered Institute for IT, has been changing the perceptions of IT for society over the past few years and it's great to be a part of it.
It's recommended to advertise your membership by putting RITTech at the bottom of your email signature as this gains you more recognition and respect when sending emails, particularly to customers.  
I've often spoken with colleagues about some of the recent developments that are advertised by BCS, particularly related to the Young Professionals Group. I think it's a great idea to support young professionals while we're in the early stages of our career, to help us keep current with the latest technologies, debates and it will also be useful to grow our networks amongst the BCS community.
Why is it important that we have a recognised standard in the IT industry?
It's very important to be recognised in the IT industry: the reason being that you never know when you might need help with a technical issue. Having a vast network means we can seek help from people we've met at BCS events.
Since being nominated for the National Apprentice of the Year award, I've received not only external recognition through BCS but also internal with many higher executives realising who I am without introduction. Despite only having three years within the IT industry, I don't feel out of place in the society compared to some more experienced members.
What would you say to other IT Technicians that are not yet RITTech registered?
To be registered and a part of such a well-known society amongst IT Technicians is really something to which we should all aspire. I enjoy the fact I have access to various events happening each week for chosen technologies which enables me to create contacts, build my network and of course learn new skills in topics that I might not have access to in my direct line of work.
Keeping current with the IT industry and its latest developments is a key area in my role, particularly within the cyber security space right now as there are many growing threats we need to prevent.
We as IT professionals should look to come together to build solutions and share knowledge to better support our clients and BCS is a great place to do this. If you're serious about making the most of your career in IT, then being registered with RITTech and BCS is a very good starting point.