BCS, The Chartered Institute for IT opens CHIME International UK Chapter
28 October 2019
BCS, The Chartered Institute for IT, has officially opened the CHIME International UK Chapter, bringing the benefits of the international healthcare IT organisation to its members.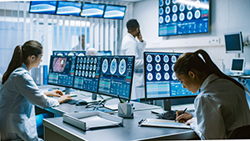 Membership of the College of Healthcare Information Management Executives (CHIME) is available to BCS Associate Members and above. Eligible staff will be able to study for and take the CHIME healthcare CIO (CHCIO) examination, joining an international cadre of healthcare IT leaders. BCS members will also be able to attend educational and networking opportunities at key events in the health and care calendar in countries where CHIME has existing chapters.
It follows the signing of a landmark agreement between BCS and US based CHIME in September. BCS Managing Director Lucy Ireland said: "BCS has been at the cutting edge of health and care in recent years and has around 2,000 BCS members in this sector.  The launching of the CHIME International Chapter in the UK is an exciting opportunity to expand our support for the leaders of tomorrow.
"Now that the CHCIO site for BCS members is live, we are really looking forward to welcoming the many senior staff who will sign up for this qualification, enabling them to showcase their skills and professionalism in healthcare."
CHIME is a membership-based organisation serving more than 2,900 chief information officers and senior healthcare executives in 56 countries. Jane Dwelly, Executive Director International CHIME said: "We are thrilled to bring the benefits of CHIME membership to leaders working in health and care IT. By joining this international family of professionals, BCS members will be supported with high quality resources and a network of peers as they use health IT to improve patient care."
CHIME now has nine international chapters. This year CHIME established chapters in Austria, Belgium, Germany, Italy, Liechtenstein, Luxembourg and Switzerland after launching a chapter in India in 2017. In addition, CHIME has signed letters of intent for partnerships with organisations in Canada, Ireland and Israel.
This latest development forms part of the ongoing campaign by BCS to promote increased professionalism in IT in the health and care sector. The BCS mission also includes encouraging health informaticians at all levels to sign up to the Federation for Informatics Professionals register, (FEDIP) which is the only UK public register for staff in this sector to evidence such digital competency.