Invotra winner of SME category at the National Apprenticeship Awards 2019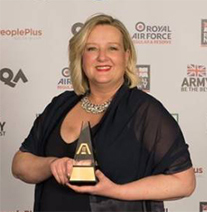 Alison Galvin co-founder of Invotra
28 November 2019
A Woking-based company, Invotra, has won the SME Employer of the Year category sponsored by BCS, The Chartered Institute for IT and RITTech, at the National Apprenticeship Awards 2019. 
Alison Galvin co-founder of Invotra said: "We are overjoyed to have won this award. We have been providing opportunities and watching homegrown talent flourish for the last eight and a half years.
"When you invest your time in people and support them as they grow, you end up with loyal, hardworking individuals that are a huge asset within your business.
"We are firm believers in offering an alternative to university that allows people to gain real business experience whilst they learn, free of charge. It's a common misconception that you need a degree to end up in a senior role. We are proof that this doesn't have to be the case with 60% of Invotra's Senior Management Team being current or former apprentices.
"Having our hard work recognised towards championing apprenticeships and our dedication to investing time to mentor and develop our valued apprentices is truly wonderful."
Invotra is an enterprise intranet and portal provider that is leading the way in digital communications, currently supplying services to over 47% of UK civil servants. The organisation has 41 employees and was recently announced as one of the UK's Top 70 most ambitious high-growth technology companies by SV2UK.
When it comes to apprenticeships, Invotra has a 92% retention rate, 96% pass rate, 6 employees on higher or degree apprenticeships and 17 on permanent placements.
Two other organisations, London-based Troup Bywaters + Anders - a consulting building services engineering partnership and York-based Clifton Green Primary School Group, were highly commended in the same BCS / RITTech sponsored category. 
During September, the judging panels for the awards chose the regional finalists for nine different categories, including the Royal Air Force Award for Apprenticeship Champion of the Year and the Lloyds Banking Group Award for Rising Star of the Year.
Annette Allmark, Head of Apprenticeships at BCS said: "We wanted to sponsor the SME Employer of the Year category in recognition of the significant role that small and medium sized employers play in providing and supporting apprenticeships and in particular those organisations that champion the benefits of apprenticeships."
"Choosing the overall winner of this category was a difficult task as all the regional finalists were of such a high calibre and we'd like to thank them for taking part.
"They are all fabulous examples that showcase how apprenticeships can be part of the business strategy for all types of SMEs and can help both the individuals and the businesses to flourish."
All the regional finalists of the SME category attended a glittering ceremony held on Wednesday 27 November in London, at the Old Billingsgate Market events venue.  It was co-hosted by Reggie Yates, actor, television presenter and radio DJ, and Annie Hughes, the Vice Chair of the East-Midlands Young Apprentice Ambassador Network.
The SME category finalists were:
Maycast-Nokes Precision Engineering Ltd - Halstead, Essex
Invotra Limited, Woking, Surrey
Troup Bywaters + Anders, London
Intelect (UK) Limited, Grimsby, South Humberside
JLES Group Limited, Greater Manchester
Clifton Green Primary School, York
Advance Appliances Limited, Walsall, West Midlands
Thatchers Cider Company Limited, Sandford, Somerset
Derry Building Services, Newark East Midlands
Now in its 16th year, the National Apprenticeship Awards celebrates the diversity of sectors engaged with apprenticeships. It also shows the achievements of outstanding apprentices, employers and individuals to inspire others to help follow in their footsteps and champion apprenticeships across England.
The awards were open to apprentices, employers and individuals who champion apprenticeships and employers of all sizes from all sectors. Categories were updated in 2018 creating additional opportunities for entrants to demonstrate the impact apprenticeships have made to individual's lives and their workplaces. Those recognised as regional winners are apprenticeship exemplars, highlighting best practice across recruitment excellence, high quality training practices, diversity and career progression.