New FEDIP chief executive appointed
14 January 2020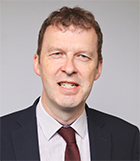 The Federation of Informatics Professionals (FEDIP) - the body leading on professionalism for the healthcare IT community - has appointed the former Director of the NHS Wales Informatics Service and Chief Information Officer, Andrew Griffiths, as the new chief executive of its management board.
Andrew has had a long and successful career in digital health and has made a dedicated and outstanding contribution to the development of information and technology services in NHS Wales. He has been instrumental in leading on the development of the national architecture and single digital patient record.
FEDIP maintains a public register which demonstrates the professional competency of informatics staff and commenting on his appointment, Andrew said: "I am very pleased to be given this opportunity. I feel strongly healthcare should be an attractive workplace for informatics professionals, with a clear career path and professional development opportunities. I would like everyone working in healthcare IT to have professional registration."
In 2015 he was voted Healthcare IT Champion of the year. A prestigious award decided by the readers of Digital Health News.
Adam Thilthorpe, BCS and FEDIP director said: "We are delighted that we have someone of the calibre of Andrew Griffiths to drive the next stage of FEDIP's journey so that we can make good on our mission: to ensure that everyone benefits from digital health and social care provision and can trust the highest professional and ethical standards are being met."
Wendy Dearing, FEDIP Board member and Head of Workforce and Organisational Development at NWIS said: "FEDIP has a pivotal role in strengthening our profession and our impact and influence over healthcare delivery, so we are delighted Andrew is joining us as chief executive. He has long been a champion of skills and professionalism within the IT sector, and his knowledge and expertise will be invaluable."
FEDIP is a collaboration between the leading professional bodies in health and care informatics supporting the development of the informatics profession.
It is made up of:
Find out how informatics is revolutionising healthcare