Now come on, you know I'm not talking about the carbonated drink. Dr Robert Pepper delivered the opening Alan Turing lecture last night and I was lucky enough to be in the audience and have dinner with the speaker after.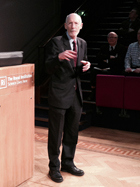 Robert leads Cisco's Global Technology Policy team. He introduced himself using the Alcoholics Anonymous gag as 'I'm a regulator, but I haven't regulated today' as, prior to Cisco, he spent 23 years at the FCC, which regulates communications in the US.
Alan Turing requires no introduction and I believe this was the 17th edition of the lecture given in his honour. Dermot Turing (Alan Turing's nephew) was at the event, in support of the Turing charity, and he gave a short speech too. He said that if you want the real truth about Enigma, don't watch 'The Imitation Game', but visit Bletchley Park instead and see the Bombe machine. He thanked BCS for rebuilding the Bombe without the help of any schematics - high praise indeed.
Robert Pepper's lecture was about the next market transition to the 'internet of everything' and the interplay between policy and technology. I won't do his talk justice by trying to replicate it all in a blog, but here are some takeaway points that resonated with me:
despite the exponential growth in the internet, 99 per cent of the things that could be connected (broad definition) are not yet connected;
by 2020, Robert expects 20 billion IP addresses to be connected;
despite the huge data collected through the internet, less than half a per cent is actually analysed - and the societal impact can only be managed when that data is turned into insight;
1.46 million are now employed in digital roles in the UK and there are 45,000 current vacancies.
Robert's lecture did an excellent job of exploring the paradox that exists between safety, security and privacy on the one hand and innovation, access and openness on the other. And that's a debate that BCS needs to continue to facilitate.
About the author
Paul Fletcher is the Group Chief Executive Officer of BCS, The Chartered Institute for IT. Paul joined BCS in 2014 after ten years at RM Education where he was Group Managing Director of the Education Technology Division. Prior to RM, Paul held senior management consultancy roles with A.T. Kearney and KPMG. He started his career in the Aerospace Industry. Paul is passionate about the role of IT in education and society as a whole.