Partner with us to develop a high-performing digital team
When it comes to workforce training and development, make your first smart move a partnership with BCS, The Chartered Institute for IT. Our partnership puts you in touch with the services, tools and trusted support you need to supercharge your digital talent and level up your business strategy.
We're the professional body for the IT, tech and digital industry. We work with teams around the world to successfully transform digital teams and boost organisational effectiveness. We know exactly what it takes to get the right tech people in the right place with the right tech.
Tell us about your business challenges
Whichever challenge takes priority in your business, from digital skills auditing to career management, staff recognition to strategic workforce planning, we can help you unlock the solution.
Make the right moves with BCS

Careers
Whether it's developing skills and progressing to the next level, or transitioning to other projects or departments, BCS helps you embed career mobility at the heart of your digital team

Change
With a flexible, transferable skills base, and a resilient and collaborative approach, your team can become business enablers, championing digital transformation across the whole organisation

Skills
Gain a clear understanding of the IT competencies you have in your business, the skills that you're missing as well as your future workforce needs, and take the guesswork out of your workforce planning

Tech
Develop the aptitude and resource for recognising when an emerging trend needs your attention, exploring the benefits and risks to your ecosystem and swiftly integrating promising new tech

Talent
Attract, develop and hold on to your top talent by showing you invest in your IT people and providing dedicated development programmes, industry recognition and exciting career pathways
Digital team development, simplified
When your organisation's success is determined by the way it uses technology, your tech employees are your star players — and understanding how to build a dynamic tech team is core to your business strategy.
Like the blocks in a puzzle game, you need everyone in the right place at the right time. A gap in the blocks and it's game over. A gap in your digital team and there can be a serious impact for your business.
The right people + the right tech
A partnership with BCS is a game-changer when it comes to developing your digital team and transforming your business. Our industry experts will work with you to understand your capability and future workforce needs, and help you prioritise areas for development in line with your business strategies.
We'll introduce you to effective tools and methods for benchmarking and auditing your digital capability, identifying skill gaps, creating role profiles, and accurately focusing your training budget and CPD activity. Our skills mapping platform works alongside your own frameworks and taxonomies to provide transparency around the career paths and potential within your team, and lay the foundations for an inclusive digital team development programme.
What's more, through your BCS partnership your team become members of their professional body, raising their profile in the industry and putting professional registration on their radar. They can tap into our vast library of practical elearning and CPD resources, the latest digital thinking and best practice in our specialist communities, career mentoring, and so much more.
With the right tech people in place you can achieve organisational effectiveness, level up your IT capability, and have time to focus on the strategic opportunities coming over the horizon.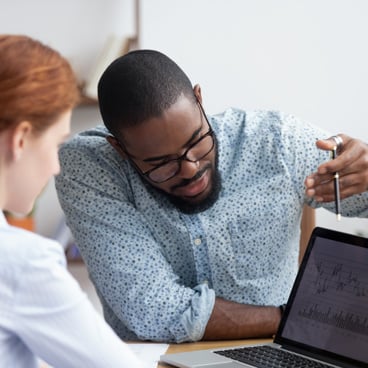 Discover some of our tools
Organisational membership
Providing BCS membership for your team raises their profile in the organisation while promoting professional conduct and performance and an inclusive culture of continuous learning.
Find out more
RoleModelplus
Use our skills platform for accurate workforce planning, skills audits, benchmarking and career management in line with industry frameworks or your organisation's own skills matrix.
Find out more
OUR PARTNERS
Tech teams work with us in every sector
BCS supports digital transformation in organisations around the world, helping them create diverse and progressive technology teams aligned with innovative IT strategy.