Our London office and event venue
Located in the City of London, our space is a great venue for hosting meetings and events, and for members to drop in and catch up on work over a tea or coffee.
Our location
Where are we?
BCS, The Chartered Institute for IT
Ground Floor
25 Copthall Avenue
London, EC2R 7BP
Nearest tube stations:
Moorgate
Liverpool Street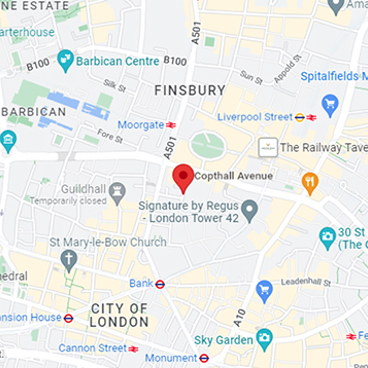 Free smart coffee
Help yourself to coffee at our innovative iPad drinks station or grab a cup of Twinings tea.

Bicycle storage
Enjoy your time at the office safe in the knowledge that your bike is secure.

High speed wifi
Our free wifi reaches download speeds of around 189mbps and 207mbps for upload.

AV equipment
We're kitted out with the latest tech: screens, cameras, mics, PA system and speakers.

On-site cafe
There's a cafe in-house so you don't have to go far to grab a sandwich or salad for lunch.
Whether it's for a formal group event or a more casual one-to-one, we have the venue to suit.
The Shirley & Spärck Jones Rooms
The largest of our conference spaces, the combined Shirley Room and Spärck Jones Room seats up to 80 in theatre-style formation.
You can also book them individually: the Shirley Room holds up to 45 people, and the Spärck Jones Room up to 37.
The Flowers & Gill Rooms
Our Flowers Room and Gill Room combine to offer theatre-style seating for 45 people.
When booked individually, the Flowers Room and the Gill Room both seat up to 12 people.
The Atrium
Our atrium offers a casual workspace where members can drop in and catch up on admin, make a few calls or just enjoy some quiet downtime.
The Lovelace Room
The Lovelace Room comfortably seats three people, offering you a professional setting for interviews or one-to-ones.
The Turing Pod
The Turing Room seats up to four people and is an ideal environment for hosting small meetings, formal catch-ups and interviews.
The Wilkes Room
The Wilkes Room seats eight people, boardroom style, offering a bright, modern space to meet with clients or host a team check-in.
Members can drop in for free
If you're a BCS member looking for a little downtime to make some calls or catch up on admin, our atrium offers a bright, spacious environment complete with soft-seating, coffee and tea station, charging points and Wi-Fi – all free for you to use between 10am and 6pm, Monday to Friday.