Get to know Adam Thilthorpe
Find out more about Adam and the motivation for his work at BCS...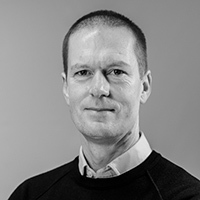 What do you do in your role?
On a good day, I change both organisations' and individuals' perceptions as to what BCS is and what it could be. I do this by working with government agencies, organisations and employers who never really set out to be in the tech business but find themselves more and more embroiled within it.
My ambition is to be better at championing the needs of our customers and potential clients within our organisation so that we can build the products, services and culture required to meet those needs and, subsequently, protect the needs of society in a digital world.
Why BCS?
If governments, organisations and societies realise the potential benefits of tech, whilst avoiding the risks, everyone benefits.
Our message is one of hope, not a blind faith in tech to solve all ills, but a hope augmented by our ability to bring critical and informed thinking to the problems of today. For example, politicians and leaders would benefit from greater digital dexterity in their thinking: algorithms are opinions formed in maths, not necessarily therefore the truth!
Our lives and those of our children are dependent on us being able to harness the power of tech, for example with regards climate change, to make sure everyone benefits from the advancements we have seen in technology.
What's the proudest achievement in your career?
In the olden days when I joined BCS we were not able to go to employers and articulate our purpose and inspire people to rally around our cause. I am particularly proud of the work we do now with this same group where our clients understand the value of what we do and become involved in different ways.
You see this happening in the work of our Organisational Membership team, the Education team and right across the Board - teams forming to support the NHS and its digital journey for example - and I believe it's this ability now which will help us be successful in the future. It is when we bring all that we have, in a coherent whole, that BCS can change both individuals' and government's behaviour.
And I taught Ian Hislop to sail.
Where do you think computing can have the biggest impact in society?
Tech has already changed our lives, however the unintended consequences of those well-motivated actions continue to shape our world in ways that previously had been unachievable, owing to the power, scale and reach of tech.
It is this power that writes the next chapter of BCS' story, in that with such great power comes a requirement for great responsibility. Responsible tech, the ethical use of tech and taking responsibility for unintended consequences, is going to shape our thinking; we will need to make good on our promise of making IT good for society.
One of the world's largest and most influential companies has the stated ambition of doing no evil. Critical thinking, on hearing the hopeful ambition of making the world a better place, must ask: for whom, and in what timescale?...
What's your favourite drink?
It's easier to find me in the kitchen making tea than figuring out where I'm sitting in the office. Tea is ace.