Get to know Rashik Parmar
Find out more about Rashik and his mission to make IT good for society...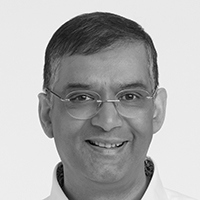 What do you do in your role?
In my role as Group CEO, I focus on two primary areas:
Growing the reputation of the BCS as a trusted source of practical insights into the future of computing with stakeholders and partner organisations
Ensuring the effective and efficient running of the BCS to deliver our strategic outcomes
It is a privilege and honour to have been appointed into this role and I'm keen to ensure the continued relevance of the BCS to all members and partners.
Why BCS?
Everyone relies on technology for everything from purchasing food, through to education and entertainment. The BCS has a pivotal role in stewarding the profession so that IT is inclusive, founded on ethical values and addresses the pressing issues society faces. The BCS is uniquely placed to be the champion for the profession, and it is a privilege to play my part in the progression of the profession.
What's the proudest achievement in your career?
I have been blessed with many proud moments in my career and being chosen to be the Group CEO for BCS is at the top.
Where do you think computing can have the biggest impact in society?
Computing will continue to increase the productivity of businesses by unlocking the potential of technologies such as AI, IoT, Quantum. It will also be a major part of addressing societal challenges such as sustainability, affordable healthcare and digital poverty.
What's your favourite drink?
There is nothing like a fresh peppermint tea… Why you might ask – I shared my perspectives on this in my weekly Sunday blog.