Modernising the digital workforce through apprenticeships was the latest successful event held at BCS London: It turns out, on-the-job training is not only working for the apprentice, it's also revitalising the modern workplace, writes Johanna Hamilton AMBCS.
Apprenticeships have been part of the UK workforce for generations. However, apprenticeships of today - financially supported by an employer levy - offer training opportunities for people of all ages whether they are starting or progressing their careers.
Digital apprenticeships, are proving to be an important source of talent across a vast array of organisation and sectors, helping make the UK a global IT and digital leader.
As a charity and the professional body for IT, the relevance and success of digital apprenticeships are paramount to BCS. We work alongside training providers and employers to deliver the highest possible quality of end point assessment and, in doing so, draw on our trusted and ethical network which includes thousands of IT professionals.
In the past two years, BCS has delivered over 4,000 end point assessments and has more than 15,000 registered apprentices.
Setting the scene
Casey Calista, Account Director and Head of Tech and Digital at Lodestone Communications facilitated the BCS event, which took place on Monday, 18 November 2019.
The event was introduced by BCS head of apprenticeships, Annette Allmark, who outlined the huge opportunity apprenticeships offer, explaining that BCS' role goes beyond end-point assessment. She explained that the event, including a range of diverse speakers, was the start of various activities to focus on two key areas:
The effective integration of apprenticeships in organisations as they build and transform their digital capabilities
The challenges and opportunities to engage more untapped diverse talent, including the launch of a BCS campaign to help increase the number of females that start a digital apprenticeship.
Adam Thilthorpe, director of policy affairs at BCS spoke on the difficulties of working in an ever-changing digital world, about how even 'good' decisions have negative consequences and the importance of critical thinking, for example: The metadata used by the military to track and neutralise terrorist couriers that can potentially come from journalists who share the same digital footprint as they navigate the same physical locations.
He then challenged the audience, asking them how they would mobilise a new, highly-skilled digital workforce into the fourth industrial revolution. He also asked delegates about inclusion: 'What are you doing to truly put together a diverse and representative workforce of the future?'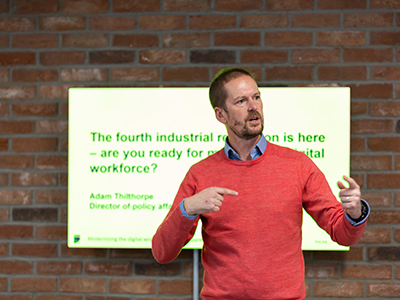 Power of people to harness business growth
Julian Burnett, VP of global markets at IBM, discussed his experience of putting together teams that work: 'Skills, knowledge and experience - and healthy dose of enthusiasm. What I have done across the last twenty years is build teams based on combinations of those skills. Teams based on the perpetual need for change and transformation, sanctioned by business need.' Putting together diverse teams of all ages, backgrounds and personalities, has been an effective way to drive ideas and implement solutions.
He said that 'the perpetual need for transformation requires a perpetual need for enthusiasm. For me, transformation is about different ways of making a business perform better in a market that is dynamic with a future that is uncertain.'
The basis of the team is not patriarchal, it's not even hierarchal, it's about critical thinking, imagination and the ability to work together, diagonally, across the company structure. Taking up the apprenticeship mantel, Julian believes that offering apprenticeships responsibly on small, safe areas is the way to nurture young professionals.
He explained why new ideas and input are essential to business growth and how boards should be challenged and enhanced by a more inclusive approach to teamwork: 'Bring young people into your organisation and they will very quickly learn what they need to do. Offer variety. A different perspective. You need people with adaptability and agility.'
Return on investment
Raoul-Gabriel Urma, CEO at Cambridge Spark, went on to explain the commercial benefits of apprentices, including ROI. Rather than putting students in lecture theatres for three or four years, then putting them, largely unprepared into industry, he believes that apprenticeships allow a better delivery model.
The challenges, especially in digital, are that tech is constantly in a state of flux. There is always a new software package, always an update, always a new way of working. Apprenticeships have the benefit of allowing students to learn on the job in a world that is continuously changing, perpetually honing their skills and contributing to the workforce, which is especially relevant as AI closes in.
Data science and machine learning will automate and change the career landscape, automating tasks that humans find unfulfilling and making room and time for workers to be human and build customer relationships.
Dynamic opportunities
Chris Yapp, previously a journalist and now a technology and policy futurist, discussed the closer working relationship between business and technology has grown since the 1980s. He argued that a greater collaboration, team effort and more fluid team structure are more important than having specific skills. 'We are moving away from the separation that most of us have grown up with,' and that people need to think in a different way.
'I think we're going to see an era in the transference of digital skills. If you wanted to work in banking, you had to have a background in banking, but then it flipped and they wanted people from a retail background. You'd think that the silos are difficult to get across, but all you need is the sensitivity to know what works. I believe the opportunities in tech are dynamic. And that people with transferable skills will bring a different element to a digital apprenticeship.'
Community benefits
Anthony Impey, founder of Optimity, has seen the opportunities that can grow from communities brought together with local apprenticeships. A chance community meeting in the basement of a church brought home the need to recruit apprentices within the Shoreditch technology hub area, where young people were largely working on zero-hour contracts in roles that didn't suit their education or skills.
He saw the need 'to collect networks that connect with local people and local training opportunities and connect those with local employers.'
Anthony also highlighted research that indicates 90% of London businesses don't have an apprentice and that around 60% of levy paying businesses didn't expect to use more than half of their levy fund.
He believes, that there is an argument for further refining the way the levy works to devolve power locally and create greater opportunities; but he conceded that 'We are reading lots of reports about the Levy becoming exhausted; however, the fact it's being spent shows the system is working pretty well.'
A group discussion
A panel discussion about developing a more agile and diverse apprenticeship culture included Anthony Impey, Ben Hansford from Firebrand and Bugie Dhanda of Qufaro, including audience participation. A variety of views were expressed including taking positive action on a local basis to support small and medium sized enterprises, and the need provide better and accurate information on career choices covering the full range of options open to young people.
Ben Hansford concluded: 'Apprenticeships, if done well, can add breadth and depth to a young person's career.' However, after a day of looking at training from a wide range of different perspectives, the conclusion has to be that apprenticeships, when done well, can enhance all of our lives.
Summary
The overriding message coming through the first session was the rate of digital transformation and the challenge of keeping up with employers' needs and societal expectations. On this point it's important to consider the very defined nature of occupational standards on which apprenticeships are based.
This is in comparison with the rate at which IT and digital roles evolve, and the extent to which IT and digital skills are increasingly integrated across a very wide range of non-tech occupations. To be ahead of the game and keep apprenticeships not only relevant, but valued by employers, will rely on being able to get under the skin of the changing nature of businesses, teams and individuals as a result of technological advancement.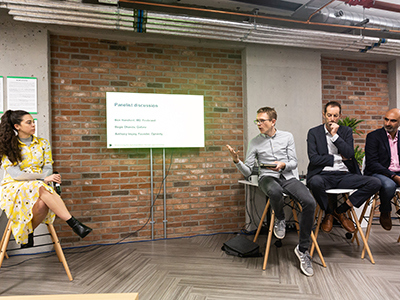 Inclusive opportunities
In the second half, Jacqueline Baines, Engagement Manager, Apprenticeships in Disadvantaged Areas at ESFA, explained that every child, no matter what their background and ethnicity, should have the opportunity to explore STEM.
A pilot scheme to improve deprived areas through apprenticeships has seen a number of contributory problems: lack of parental engagement; problems with benefits being affected; generational unemployment; lack of aspiration; limited knowledge about possible training.
They have also had to work with candidates to give them the basics on how to dress and timekeeping, as many of these people have never had working role models.
One of the ways in which apprentices have been inspired is with peers, people from the local area who have completed apprenticeships and are willing to share their success stories.
Community partners have also engaged in outreach programmes for both individuals and employers in inner-city estates. The ESFA has worked with individuals and employers: they believe that the levy transfer programme is a great way to create apprenticeships where they're needed most.
The difference diversity makes
In a generation, the UK's demography has changed considerably, but not in the workplace.
Zahid Nawaz, Diversity and Engagement Manager of the Five Cities Project, spoke of the need to support a diversity agenda.
The Project aims to enhance BAME participation in five key localities and their findings indicate that there is plenty of nuance within the diversity arena: people can be black and also LGBT, disabled, or needing flexible working. So, it begs the question: How can people be accommodated? What is best practice? What are the benefits to the employer?
Continuing the discussion, Sophie Adelman, co-founder of Whitehat thinks that companies shouldn't embrace diversity simply because it's a moral decision, but should look at the bottom line and the increased profitability that comes from a diverse team. She asked the question: 'if a company's marketing team isn't diverse, then how can they expect to connect with their audience? How can companies hire a diverse team if many of the people they are seeking to attract simply aren't in the employment pipeline?'
Equally, if a company only employs graduates, it'll exacerbate the lack of diversity: 42% of Oxbridge graduates went to private school – while in the UK, just 7% of the population have been to private school. In reality, a child's future success can be dictated by how wealthy their parents are.
The importance of role models
UKIT 2019 Apprentice of the Year, Lori French, a software developer, also shared her own experience of diversity (or lack thereof). From being the only girl in double maths 'A' levels, through to working in five different IT teams where she has never met another female developer, Lori has often been the lone female in a sector with a disappointing lack of role models.
So, how can we buck that trend? Sophie recommends looking at recruitment differently: savvier HR departments in larger organisations are beginning to look at the person rather than the qualifications.
Whitehat advocates recruiting on competencies rather than qualifications to help widen the pool and looking at an individual's academic achievements compared to their school's average – because the candidate might have over-achieved given the education on offer.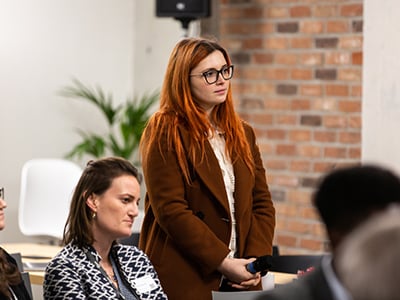 The best start to a career
The final panel discussion included apprentice, Jamilah Simpson, Rommel Wallace of the Workforce Integration Network (WIN) and again by Sophie Adelman, of Whitehat. Jamilah talked of the challenges of starting a career in tech stemmed from school where the choice of courses across schools is inconsistent and she herself had only one option. The very simple question is if we know these are the challenges, and often discussed, why are they not being addressed?
Summary
In summary of the second session, BCS believes that increasing diversity, inclusion and accessibility in tech careers is a broad and complex problem that cannot be addressed without collaboration, creativity and a bit of risk taking. We will work with partners over the coming months to support diversity campaigns and will deliver our own campaign to encourage more female talent to flourish through apprenticeships.
Wrapping up the whole day, Lucy Ireland, BCS MD said: 'Digital apprenticeships are currently a real success story as they respond to the need for agility and the pace of complex change. Lucy summed up a key message she had taken from the event - "It's not all about tech, it's also very much about people. Changing the culture, changing the pace".
'Apprenticeships are a different route to the same outcome. We are doing our young people a disservice when we try to create this separation and we don't talk about how apprenticeships and university are part and parcel of the same thing, offering different options.
'We work as an end point assessment organisation and as the Chartered Institute for IT, to help make sure we bring all our skills, members and network together. Our aim is to get things moving as smoothly as possible through creative collaboration and getting more people from diverse backgrounds working together to bridge the skills gaps of the future. Workplace learning is essential and always will be.'
While Lucy was summing up the at the end of the event, she said that this was just the beginning of a number of BCS apprenticeship activities including regional research and a competition that will be announced in National Apprenticeship Week 2020.