Deliver BCS Essential Digital Skills Qualifications (EDSQ)
Are you getting ready for the government's digital skills education reform? We are!
Digital skills for life and work
Partner with us to deliver our new, fully-funded digital skills qualifications coming to the market soon.
With dedicated qualifications for life and work, equip the people in your community with the right digital skills to thrive in the digital age.
At BCS, we're covering the full EDSQ framework with four new qualifications at entry level 3 and level 1:
Essential Digital Skills for Life - entry level 3
Essential Digital Skills for Work - entry level 3
Essential Digital Skills for Life - level 1
Essential Digital Skills for Work - level 1
What is the government reform?
The Department for Education's basic digital skills reform aims to support adults at risk of being left behind in the increasingly digital world. The reform introduces an entitlement (in England) to full funding for adults with no or low digital skills - and the development of new qualifications based on national standards setting out the digital skills people need to get on in life and work.

Your next step?
Simple, talk to us about accrediting your centre for EDSQ. Whether you're topping up your existing BCS accreditation or partnering with us for the first time, you'll be opening up exciting new opportunities through quality training and funding for the well-being and confidence of your learners.
Digital literacy guide
As the UK's professional body for IT, we're the experts in adult digital literacy education; download this guide to explore our current range of funded qualifications and units.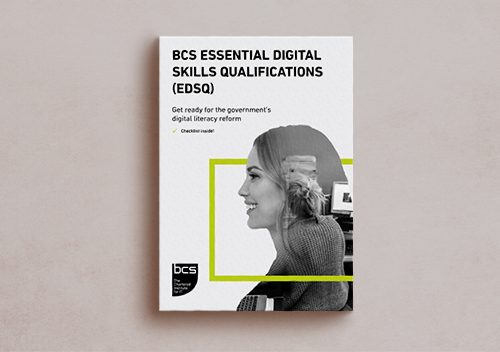 EDSQ checklist
Download the EDSQ checklist to help you plan, prepare and be ready to deliver the government's new digital literacy qualification.
Your questions
What are your pressing questions about EDSQ delivery? Share them with us and we'll look to answer them in our upcoming webinar series.
Other things you might be interested in: