Optimising your Virtualised Data Center and… Certification in the IT Industry
1800: Introduction
1805: Technical insights - Optimising your Virtualised Data Centre to get the most out of operational and capital expenditure.
1835: Certification insights - Certification benefits and recommended paths from personal experience.
1845: Questions and answers - followed by discussions with the speaker, the committee, members and guests
1930: Event closes
Speaker: Graham Barker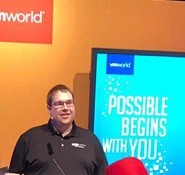 Graham is a VMware User Moderator of the official VMTN forums with extensive expertise from the development of cloud based services, cloud adoption projects and related VMware solutions. He is a current vExpert and vExpert Cloud, a VMware Certified Implementation Expert, and heavily involved with the VMware communities.  He now drafts questions in the official exams as a VMware Certification Subject Matter Expert.
Twitter: @VirtualG_UK Blog: virtualg.uk
Registration
BCS Isle of Man is pleased to open this meeting to all, in the Public Interest and at No Charge.
Light Refreshments, Tea, Coffee, etc.Cash Bar open from 7pm.
All are welcome to this free event. To find out more about BCS Isle of Man Section, please click here - https://www.bcs.org/category/19249