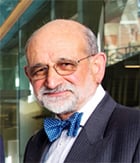 Speaker:
Chris Rees MA (Hons) FBCS CITP, President - BCS, The Chartered Institute for IT

Summary:
Chris will first provide a brief history of the development of Artificial Intelligence since the 1950s and then give an introduction to the main current developments in AI. This sets the scene for the talk, which will focus on the ethical issues which arise in the development and implementation of AI systems. He will discuss the main ethical issues, how they can be addressed, and the consequences if we do, or if we don't. He will argue that it is our responsibility to engage in the conversation.
After graduating from St. Andrews University, Chris joined IBM as a systems engineer and then moved to the USA with National CSS Inc (later Dun & Bradstreet), a pioneer in timesharing and virtual systems. Returning to the UK in 1972, he joined the software and consulting firm, Logica, where he was a Principal Consultant, then Divisional Manager for Payment, Settlement and Trading Systems, and finally Managing Director of Logica Software Products Ltd.
In 1986 he joined Deloitte Consulting as a Partner. His assignments included leading roles in the Fraud Audits of major privatisation share issues, several of which used expert systems developed by his team, advising the Russian, Hungarian and Polish governments on privatisation, acting as Programme Director for the Gas Industry Domestic Competition Pilot, and advising the Governor of the Bank of England's Task Force on the specification of CREST, the London Stock Exchange equity settlement system. He was Partner in Charge of the Knowledge-Based Systems Centre, which built the first successful fraud detection expert system for Barclaycard
In 1996, he co-founded Charteris plc with three senior industry colleagues. He led consulting engagements for clients including the Board of National Air Traffic Services (NATS), the Global Fund, UNESCO and Centrica. He led Charteris' Expert Witness practice for many years and acted as an expert in a number of high profile disputes for clients including the Department of Health, ATOS and the Royal Bank of Scotland.
A Chartered Fellow of the BCS, he co-founded and was first chairman of the Financial Services Special Interest Group, FINSIG. He is Chairman of the Ethical and Spiritual Development Panel of the Worshipful Company of Information Technologists.
His theme, as President, is the Ethics of IT and particularly the Ethics of Artificial Intelligence.