Consultant Success System. You may have the best solution in the world, yet if others don't understand and support you with it, then it will be challenging if at all possible to get it implemented and reap the rewards of that success.
Many people want to influence change, build consensus and achieve an even greater success for their business and grow their own careers!
Martin Sharp has developed the 'consultant success system' to do just this. This session will recap all 5 areas and deep dive into one, where he will be showing you how you can improve your reciprocal relationships and make your next Business or IT transformation a success.
As well as proven techniques and success stories, there will be time for discussion in the group or individually.
====================
Speaker: Martin Sharp FBCS CITP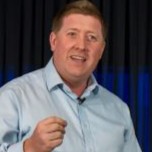 ====================
Martin has developed an eclectic variety of skills in management and strategy along with a breadth and depth of technical knowledge and experience.
Specialties: IT strategic vision and planning, Virtualisation, Infrastructure Optimisation, Service Transitioning and Infrastructure Architecture, Healthcare IT, Strategy and Technology Roadmaps, Infrastructure Management, IT Service Management, Leadership, Information Security Management, Start up and Acquisitions/Mergers, Service Transition, Programme Management, Change Management, IT Sourcing and Procurement.
====================
BSC EA resources.
The BCS has several specialist interest groups including one for Enterprise Architecture.
Mike will recap this group and give a personal view of the highlights of this year's annual conference where almost 20 senior high-profile speakers from leadership positions in IT organisations and consultancies shared their views, experiences, and techniques.
With highly valuable sessions recorded to YouTube, Mike will give a personal perspective of how some of these can be of value to people in either early-career or mid-career, to identify and bolster broad capabilities.
====================
Speaker: Mike Broomhead FBCS CITP

====================
 Additional information and the means to influence the topics to be discussed can be found at this link --- https://twitter.com/bcseasg
====================
Please note, there will be a short Branch AGM at the start of this event.  All are welcome, but, only BCS members are entitled to vote on any matters arising.  If you have an agenda point for the AGM, please contact
before 16 October 2019.
====================
Car Parking:
Free parking: The nearest car park to the Business School is the John Dalton car park underneath the Mancunian Way. The carpark is accessed south off Chester Street, M1 5GD, and is located close to the back entrance of the Business School. Drive towards the south of the car park, park up, and enter the Business School via the rear entrance between buildings 5 and 6 on the campus map. There are 12 designated disabled parking spaces. The spaces are clearly marked and have sufficient width to allow wheelchair users to get in and out of their vehicles. All of the John Dalton car park is on one level smooth surface on the ground floor.
Travel Options to the Business School:
The Business School is situated just off Oxford Road on the Manchester Campus (All Saints). The closest railway station is Manchester Oxford Road, which is 0.3 miles away. Manchester Piccadilly Railway Station is 0.9 miles away and Manchester Victoria is 2 miles. Taxis can be pre-booked through Radio Cars, who also have wheelchair accessible taxis. Their contact number is 0161 236 8033. There are taxi ranks outside each railway station and the nearest drop off point at the Business School is either Ormond Street or Cambridge Street, close to the Business School entrance. Sat Nav postcode: M15 6FH