This session covers some constructive technical detail, which will enable you to manage large and complex systems in an agile way.
Synopsis
Part 2 of Managility: Management Agility will cover slide 28 and on, in 1 hour with 30 minutes for questions. If you want to refresh yourself on part 1, here are the slides and the video - Part 1 covers slides 1 to 27.
Managility: Management Agility - Part 1 slides
Managility: Management Agility - Part 1 video
The next improvement steps for your 'Enterprise Agile' transformation
From 'Management Mumbo-Jumbo' to 'Vision Engineering' which should dramatically increase your successful value / costs delivery (3x to 10x)
About the speaker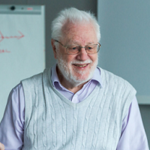 Tom Gilb
Tom was born in California 1940, lived in the UK 1956-58, Norway 1958 to present. Joined IBM 1958. Consulted for a very wide variety of organisations, and managed to influence some of them in interesting and well documented ways.
Tom is an Honorary Fellow of BCS. See Gilb.com for more detail.
Here are some free publications for those who want to see the detail: (they contain references to many other free digital publications)
Our events are for adults aged 16 years and over.
This event is brought to you by: Business Change specialist group, BCS Quality specialist group and BCS SPA specialist group