Chester and North Wales branch – Cangen Caer & Gogledd Cymru.
Watch the video
Synopsis
In an ever changing world, with greater dependencies on technology, we will look at the history and skills of a Business Analyst to establish: "Do you have to be a techie?"
About the speaker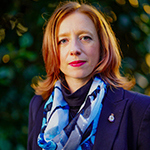 Angela McLoughlin
With an array of experiences in the world Business Analysis that started back in 2014, Ange has worked in a number of sectors as both a permanent and contractor business analyst.
This has provided a holistic view of the BA world using both Agile & Waterfall methodologies across a variety of projects & programmes.
Our events are for adults aged 16 years and over.
Open to members of BCS as well as non-members. All welcome.
For overseas delegates who wish to attend the event, please note that BCS does not issue invitation letters.
This event is brought to you by: BCS Chester and North Wales branch