Organisational Culture and the role of IT - What will the 'new normal' look like?
Watch the video
Synopsis
A year on, after much challenge and change encountered, many of us are asking what the world of work will look like in post-Covid times. How can we harness the different, respective advantages of virtual and face to face working to best effect?
In some organisations hardly anything has changed. In others, the move to virtual working has been seemingly so successful that the aim is to become 'virtual first' going forwards.
How can we best reintroduce face to face collaboration to drive innovation and business growth yet balance other environmental considerations and employee preferences? Our panel will explore the opportunities this new way of working could bring and discuss what this means for the IT function in organisations.​
About the speakers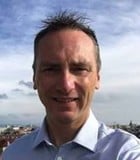 Jonathan Leeson FBCS CITP CEng
Jonathan Leeson is currently the Technology Portfolio Manager at ExxonMobil and has a globally diverse career that expands 27 years of corporate experience within the energy sector with a background in IT and technology.
Throughout his career he's maintained a professional status in leadership development, from the London Business School and the Thunderbird School of Global Management, and in technology, with specialisms in Change management, Strategic planning, Portfolio Management and Service Management. 

https://www.linkedin.com/in/jonathanleeson/

Lyn Webb FBCS
Lyn is the Chief Information Security Officer at the Open University. She joined the OU 2 weeks before the first UK lockdown and was instantly presented with the challenge of providing security advice to staff who were faced with home working for the very first time.
Prior to the OU, Lyn worked at Deloitte LLP where she led the Cyber Security Strategy and Culture practice; she had clients from across all sectors including banking, technology, media and telecommunications.
Prior to the commercial world, Lyn was an officer in the Royal Air Force for over 20 years. Initially trained as a fighter controller where she controlled combat aircraft, she did a wide range of roles, ranging from commercialising Basra International Airport to working for a member of the Royal Family. 

https://www.linkedin.com/in/lynwebb/

Sonia Saxton
Sonia is an experienced 'Corporate Specialist' who has demonstrated a track record with organisations who want results you can measure. Mentoring businesses in the UK and across Europe.
With over 35 years' experience of working with corporates and S.M.E's including Mills Reeve, Harrowells; Hurst Accountants; Sharples; Call Credit, Neoss; Merryck; Confederation of British Industries; Grantley Hotel; and many others. 

https://www.linkedin.com/in/sonias2/
Our events are for adults aged 16 years and over.
For overseas delegates who wish to attend the event, please note that BCS does not issue invitation letters.
This event is brought to you by: BCS IT Leaders Forum