The Female Laptop Orchestra (FLO) – learn how they use technology to create collaborative music.
Watch the video

Synopsis
FLO ensemble, established in 2014 by Nela Brown, connects female musicians, composers, sound artists, dancers, visual artists, engineers and scientists globally, through co-located and distributed collaborative music creation. Each FLO performance is site-specific and performer-dependant, mixing location-based field recordings, live coding, acoustic instruments, voice, sound synthesis, real-time sound processing using Web Audio API's and VR environments with audio streams arriving from different global locations (via the internet and mobile networks). From stereo to immersive 3D audio (and everything in between), FLO is pushing the boundaries of technology and experimentation within the context of ensemble improvisation and telematic collaboration.
Nela Brown, Creative Director of FLO, will talk about different platforms, software and hardware for rehearsing and performing music online and how the issues associated with network performance (latency, real-time monitoring etc.) can be resolved and/or utilised as part of the performance. She will present some examples of previous FLO performances, talk about the opportunities for cross-cultural collaboration and artistic experimentation afforded by the use of the network, and the challenges of streaming performances to globally distributed audiences.
About the speaker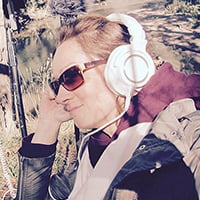 Nela Brown, Creative Director of FLO, is an award-winning Croatian sound artist, technologist, researcher and lecturer living in London, UK. She studied jazz and music production at Goldsmiths, University of London, followed by a BA (Hons) in Sonic Arts at Middlesex University London. Since graduating in 2007, she worked as a freelance composer and sound designer on award-winning international projects including theatre performances, dance, mobile, film, documentaries and interactive installations. In 2013, she won a Highly Commended WISE Leader Award for setting up innovative programmes "to inspire girls and young women to engage with the male-dominated field of computer science" in her role as the Chair of G.Hack (2011-2016) and Chair of WISE@QMUL (2012-2013). In 2014, she started FLO, gathering an eclectic group of musicians and technologists exploring co-located and distributed collaborative music making within different contexts and across different geographical locations.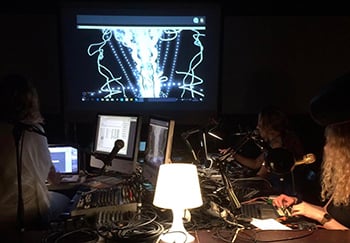 Nela regularly talks at international conferences and technology events about collaborative music-making, laptop orchestras and hack culture and performs with FLO globally. In 2019, she was invited to join the Faculty of Fine Arts & Music at the University of Melbourne in Australia as the recipient of the prestigious Macgeorge Fellowship Award. She is currently doing a PhD in Human-Computer Interaction and lecturing at the University of Greenwich in London.
https://nelabrown.blogspot.com/
Our events are for adults aged 16 years and over.
For overseas delegates who wish to attend the event, please note that BCS does not issue invitation letters.
This event is brought to you by: BCSWomen specialist group