BCS Learning and Development specialist group.
Watch the video
Synopsis
The UK faces a workforce crisis with 370,000 redundancies and unemployment creeping up to 5% (ONS, December 2020). Some industries, like digital, were already looking for a wide range of talent, from super-users to professional technicians, across multiple disciplines and the pandemic has only exacerbated this. Part of the challenge for those looking for work, either for the fist time or looking to upskill/reskill, is where to start and what is on offer in the industry in which they wish to work.
This is where Skills Bridges can help get people into meaningful employment.
City & Guilds is bringing to life Skills Bridges, which consist of a range of online programmes to help people (back) into the workspace, focused particularly on industries with in-demand jobs. Each programme is referred to as "Step Into..." and the first of these was successfully launched at the end of 2020 (Step Into Social Care), attracting thousands of individuals. City & Guilds will soon be releasing a Step Into Digital programme to complement its portfolio of Skills Bridges.
The Step Into Digital programme is designed to give those with an interest in a career in Digital and ICT their first taste of what they can achieve, and enables individuals to assess their transferable skills and behaviours. These short programmes (currently free as they are sponsored by Nesta) could help your organisation find the next PayPal developer or Cisco network designer and more. The programmes result in the award of a digital credential - the 21st century way of recognising skills - which can help individuals promote their skills and aptitudes for the industry.
This is an opportunity to find out more about Skills Bridges, how they work and what it could do for your organisation.
About the speaker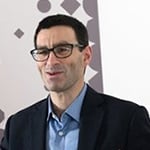 Jeremy Dahdi, Executive Director at City & Guilds 
Jeremy is passionate about fulfilling the City & Guilds purpose around the world: helping people, organisations and economies develop their skills for growth. As an Executive Director, Jeremy oversees the strategic development of awarding, assessing and credentialing learners and employees across the globe.
Jeremy's recent focus has been on accelerating the digitally-based services that City & Guilds provides. This has included leading the launch of a range of online programmes targeted at unemployed people to help them into jobs. Within the first few months of launch, there have been thousands of people who have enrolled and completed these courses.
Jeremy has spent the past decade working in the education sector with an ambition to help people better their lives. Previously he qualified and worked as a Chartered Accountant.
A little-known fact is that Jeremy graduated from Loughborough with a Sports Science degree, so Jeremy's career path has clearly been an unusual one.
Jeremy spends his free time training for triathlons and has completed several long-distance cycle challenges throughout Europe.
Jeremy is married and has two teenage daughters that keep life very challenging!
Our events are for adults aged 16 years and over.
This event is brought to you by: Learning and Development specialist group