The New and Aspiring Consultants Programme.
Videos and presentations
View the videos and presentation slides from this session
Synopsis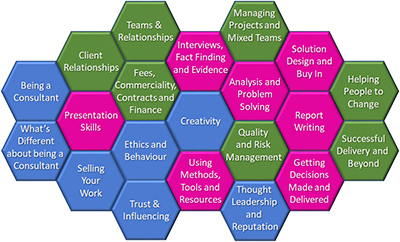 Fig 1. Topics covered in the NAC programme talks
Benefit from the wisdom and expertise of experienced consultants to maximise your success in consultancy!
This programme will be particularly valuable for new and aspiring consultants. It is a series of short, interactive, TED-style talks, where expert speakers discuss success factors with an audience that harnesses the wisdom of experienced consultants with the energy of newcomers.
It is aimed at new entrants to the profession as well as experienced IT practitioners from all specialities who are considering a move into consultancy. We also encourage experienced consultants to join the audience and share their own thoughts, advice and experiences.
Please join us for the first session, on Wednesday 31 March 2021 from 6:30pm to 8pm, which will tackle:
What's different about being a consultant
Using methods, tools & resources
Helping people to change
Over the following months, join us to discuss:
Being a consultant
Interviews, fact-finding & evidence
Managing projects & mixed teams
Ethics & behaviours
Analysis & problem solving
Client relationships
Selling your work
Report writing
Fees, commerciality, contracts & finance
Creativity
Presentation skills
Quality & risk management
Trust & influencing
Solution design & buy-in
Teams & relationships
Thought leadership and reputation
Getting decisions made & delivered
Successful delivery and beyond
The sessions are around 15-20 minutes of presentation with a further 10-15 minutes allowed for contributions from other experienced attendees and questions from the audience. Three topics are covered in each 90-minute event. Each segment will be edited and published as a video to provide a permanent, free resource.
To draw upon a dispersed pool of expertise and offer this to a wide audience, the sessions use the Zoom conference format. Primary speakers and BCS hosts form a panel, but contributions from other experienced consultants are encouraged.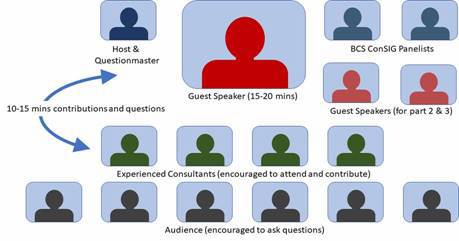 Fig 2. Zoom conference format
About the speakers

Simon Wallace LL.B MBCS CITP CMC - What's different about being a consultant
Simon has 34 years' experience working in global, large, medium, small and sole practitioner consulting firms. During his 22 years at KPMG, he led on the development and delivery of training for partners, directors and senior managers. He also headed up the quality and risk management team, which was responsible for processes, standards, quality controls and internal policing. Simon was also Head of Management Consulting for Turner and Townsend and a council member of the Management Consultancies Association.

Mike Weston-Burt MA(Oxon) - Using methods, tools & resources
Mike started out as an IT consultant with Andersen Consulting and moved on to KPMG. In recent years he has specialised in the training of consultants. Throughout his career, Mike has had a deep interest in methodology, approaches, tools, techniques, best practices, knowledge management and training.

David Lightfoot MBCS CITP - Helping people to change
David is the Chief Operating Officer of Fusion Global Business Services. He is an IT professional with 40 years' experience across various Senior Management and Operational Management roles, having undertaken work in Belgium, France, Germany, Switzerland, Netherlands, UK and USA. For the last 10 years he has been focused more within organisations who provide IT Services, being part of senior management teams across the organisations. People are fundamental to everything he does and he believes people are as important as any product or process.
Our events are for adults aged 16 years and over.
This event is brought to you by: BCS Consultancy specialist group