BCS Edinburgh branch.
Watch the video

Synopsis
Robots are the third generation of personal device however the mass adoption of robots as social companions or as workers within the service industry has failed to pick up even when during the particularly challenging times of peak COVID infection rates where these applications would have been most useful.
We believe this to be a function of three principal issues faced by the robotics community today and we discuss how these issues have been solved in the past for Personal Computers and Smartphones and how those lessons can teach us how to do the same with robotics.
About the speaker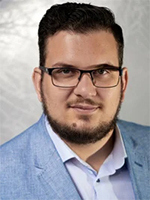 Daniel Camilleri is the founder of Cyberselves, a startup with the mission to "Realise the True Potential of Robotics". An electronic engineer by background, he holds a Masters degree in Robotics, and has 5 years experience as a researcher on EU-funded collaborative projects in robotics, working on beyond-state-of-the-art control and communications for robot humanoids.
Daniel's experience, ranges from low-level electronics to high-level robotics, and enables him to tackle the challenging and universal technology stack that Cyberselves is developing from multiple simultaneous viewpoints.
Our events are for adults aged 16 years and over.
This event is brought to you by: BCS Edinburgh branch