This short session will explain the types of Agile roles and help people decide if it's the job for them.
Watch the video
Synopsis
Agile as a way of working is starting to be everywhere and becoming more and more mainstream. So, what are the skills that are needed to work in Agile, in fact what type of roles are there? Do you need to be technical? No, you don't. How can I upskill?
This short session will explain the types of roles and help people decide if it's the job for them.
About the speaker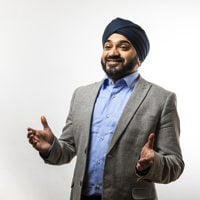 Sathpal Singh, Chair of BCS Agile Methods
Sath operates at the intersection of Engineering and Agile, with a focus on people, culture and communities. Having started his career as a Software Engineer, Sath has moved from hands-on developer roles into management and strategic leadership and over the last 20+ years has experienced numerous industries and delivered a range of programs and products for international clients and global brands.
Sath has a number of voluntary roles over and above his day job as Global Lead Engineering Practice at NatWest and is currently Chair of the BCS Agile Methods SG, Organiser at Future of Work Scotland, and Co-founder and Co-host of the MakingCommunity podcast. He is a Chartered Fellow of both the BCS and the Chartered Management Institute (CMI), and is a strong advocate of coaching, mentoring and social leadership. A regular conference speaker, Sath loves to share ideas and knowledge.
Our events are for adults aged 16 years and over.
For overseas delegates who wish to attend the event, please note that BCS does not issue invitation letters.
BCS is a membership organisation. If you enjoy this event, please consider joining BCS. You'll be very welcome. You'll receive access to many exclusive career development tools, an introduction to a thriving professional community and also help us make IT good for society. Join BCS today. 
This event is brought to you by: BCS Women