Join us as we take a look at the growth mindset.
Speaker
Jesse Engelbrecht, Founder, SquashMind
Agenda
19:00 - Event starts
20:30 - Event ends
Synopsis
Jesse will discuss some of the findings of Professor of Psychology at Stanford, Carol Dweck, in the field of growth mindset and how to practically apply this mindset for peak performance in all you do.
With a growth mindset, we are able to find the opportunities in all we do, and whether things go well or not, we are able to grow, learn and move forward from this.
We will encounter multiple failures in our lives, some big and many many small ones. Learn how with a growth mindset you can learn to fail forwards and use failure as feedback. Looking at the world, and all we do, with a growth mindset, we maximise our potential to be the best versions of ourselves. Your future self will thank your current self when you can practice and execute a growth mindset, especially so when confronted with challenges and difficulties.
Jesse will also talk about habits and the power of habits in order to have a practical toolkit to employ when looking to cultivate a growth mindset.
About the speaker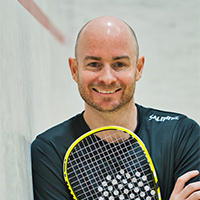 Jesse Engelbrecht is a former world Number 55 Squash Player on the PSA World Tour. Since retiring, he has taken a keen interest in how we can utilise psychological techniques to improve our performance. The techniques he has been developing are currently used with both professional and amateur squash players but are also usable in the corporate world.
In addition, a key focus in developing these techniques is mental toughness and this is an area that Jesse has particularly focussed on in his MSc in Psychology.
During lockdown, Jesse developed SquashMind and put his lessons and knowledge into an app. Since then the app has caught fire and is now being used by both professional and amateur players around the globe. The app is now also the official psychological partner of the PSA and the World Squash Federation.
Our events are for adults aged 16 years and over.
BCS is a membership organisation. If you enjoy this event, please consider joining BCS. You'll receive access to many exclusive career development tools, an introduction to a thriving professional community and also help us make IT good for society. Join BCS today. 
For overseas delegates who wish to attend the event, please note that BCS does not issue invitation letters.
COVID-19
BCS is following government guidelines and we would ask attendees to continue to also follow these guidelines. Please go to https://www.nhs.uk/conditions/coronavirus-covid-19/ for more information, advice, and instructions.
This event is brought to you by: BCS Service Management and IT Asset Management (SM-ITAM) specialist group