Chester and North Wales branch.
Watch the video
Synopsis
Having seen only nominal changes in the impact of technology on every day teaching practice over the last few decades we saw significant impact over the last 2 years. Did we just change direction forever?
About the speakers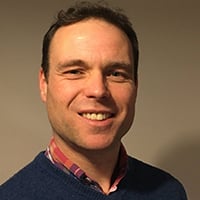 Stuart Ayres
With a decade's experience as a senior leader, Stuart Ayres has led both pastoral and academic achievement in state and private sector schools. Having an MSc in Computing, Stuart's chief passion is harnessing technology to improve learning and he has been recognised in the Ed Tech 50 for his pioneering work in this field in 2019 and 2021/22, and is a finalist in the TES Awards 2022 for Best Use of Technology.
His focus is using Ed Tech to underpin pedagogy, boost achievement and enhance student well-being to create a rounded approach to learning that meets the needs of the 21st century. He is author of Rainbow Revision, a methodology to help students better prepare for exams, and has led teacher training on integrating technology into the classroom, coding and revision techniques.
With over 15 years of practical experience turning information law into practice, Gary started Protecture in 2013. Protecture now supports over 120 UK-based charities and not-for-profit organisations.
The UK Fundraising Regulator sought Gary's expertise to co-author their "Personal Information and Fundraising: Consent, Purpose and Transparency" guidance in the wake of the fundraising "scandals" and reform of UK fundraising governance in 2017. Gary regularly speaks and advises on all things GDPR, data protection and privacy related. Gary and the team at Protecture use their knowledge and experience to guide organisations through their data protection journey, offering consultancy, advice, training and data protection as a service.
Our events are for adults aged 16 years and over.
BCS is a membership organisation. If you enjoy this event, please consider joining BCS. You'll be very welcome. You'll receive access to many exclusive career development tools, an introduction to a thriving professional community and also help us make IT good for society. Join BCS today.
For overseas delegates who wish to attend the event, please note that BCS does not issue invitation letters.
This event is brought to you by: BCS Chester and North Wales branch