Join the SM-ITAM SG for their annual lecture and AGM.
Watch the video
Synopsis
We're very honoured this year to have Ivor MacFarlane present the BCS SM-ITAM annual lecture. Ivor has recently retired after a 35 years in IT, and will be discussing the lessons he has learned in his long and distinguished career.
Technological innovation has opened up brand new possibilities, but using old skills in new ways and applying new skills to existing activities are also important. In particular, so much of effective service management reflects our wider (outside of work) experience, and we can bring that depth and breadth of knowledge to support us within the working environment.
Your family environment may seem far removed from ITSM, but we apply ordinary 'life skills' in our work all the time:
Authorisation levels, standard changes etc are core skills for change management and are practised in every functional family
Empowerment and devolved decision making is learned by every child
All cooks understand the difference between incident and problem management and best practice guidance vs reality
This talk aims to make the ways in which we can apply our life skills at work more visible and help us consciously apply them in our professional life.
Come along: listen, discuss, agree - or not - we'd love to hear your opinions!
About the speaker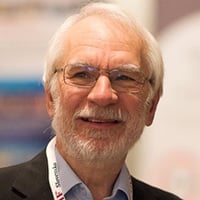 Ivor Macfarlane has worked at service management since 1976, across a range of industries: public and private sector from prisons to forestry. After a dozen years of real work he found himself writing and talking about service management after he joined CCTA's ITIL branch. Ivor was an author for ITIL V1, V2 and V3 – and wrote for other places and presented his ideas at many conferences around the world.
All that time his passion has been about applying common sense to the work environment. That's driven by seeing how useful everyday common sense and experience is to our work situation as well as our personal one. And also a bit by how much IT people want the answer to be some shiny new tool instead of thinking simply and sensibly
Now Ivor is mostly retired but still delivering some training – mostly ITIL4 and Devops – and keen to find more fun stuff to do.
Our events are for adults aged 16 years and over.
BCS is a membership organisation. If you enjoy this event, please consider joining BCS. You'll be very welcome. You'll receive access to many exclusive career development tools, an introduction to a thriving professional community and also help us make IT good for society. Join BCS today.
For overseas delegates who wish to attend the event, please note that BCS does not issue invitation letters.
COVID-19
BCS is following government guidelines and we would ask attendees to continue to also follow these guidelines. Please go to https://www.nhs.uk/conditions/coronavirus-covid-19/ for more information, advice, and instructions.
This event is brought to you by: BCS Service Management & IT Asset Management (SM-ITAM) SG