Join Ivan, CEO at edison365, as he offers insights and case examples into how PMO teams are perfectly placed to evolve.
Watch the video
Synopsis
It's no secret that the remit of the PMO is growing. Time, quality, and cost are no longer the only elements the PMO must grasp. For projects to be successful, they must align with the business strategy and bring measurable benefits to the organization. It is time for the PMO to expand its reach into the world of strategy definition and innovation and finally adopt a successful approach to benefit realization.
Join Ivan, CEO at edison365, as he offers insights and case examples into how PMO teams are perfectly placed to evolve and become true strategic enablers. He'll also dive into the key enablers you'll need to understand from people to technology in order to make the change.
Learning objectives
Understand why Strategy and Innovation are important to the transformation process
How you can achieve better outcomes by connecting innovation and project management
Recognise the conflicting personalities of Innovation and Project Delivery
Understand the seven building blocks that underpin the change in the PMO to embrace Strategy & Innovation
Learn how organisations such as HS2 are combining Innovation and Project Delivery to enable transform
About the speaker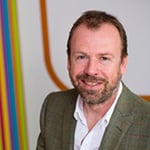 Ivan Lloyd
Ivan is the founder and CEO at edison365. With over 25 years of consulting experience in both innovation and PPM, Ivan was the UK's representative for Microsoft on PPM strategy for 18 years, a judge for the APM and is a speaker worldwide at Innovation and Project Management conferences.
Ivan founded the successful UK Project Management Consultancy, CPS in 1995, and the SAAS company, edison365 in 2018. Since exiting CPS, Ivan has focused on building edison365 in to a worldwide success with offices in the UK, US and Spain and a software solution that empowers clients across the globe to realise their strategy by accelerating innovation delivery, enabling project management excellence and delivering true benefit realisation.
Our events are for adults aged 16 years and over.
BCS is a membership organisation. If you enjoy this event, please consider joining BCS. You'll be very welcome. You'll receive access to many exclusive career development tools, an introduction to a thriving professional community and also help us make IT good for society. Join BCS today. 
For overseas delegates who wish to attend the event, please note that BCS does not issue invitation letters.
COVID-19
BCS is following government guidelines and we would ask attendees to continue to also follow these guidelines. Please go to https://www.nhs.uk/conditions/coronavirus-covid-19/ for more information, advice, and instructions.
This event is brought to you by: BCS Project Management specialist group (PROMS-G)