How technology can assist those with partial and full sight loss, including sudden loss for daily living and in the work environment.
Watch the video
Download the presentation slides (PDF)
Synopsis
Whether degenerative or sudden, there is no doubting the impact of sight loss on every aspect of an individual's life. However, with the help of accessibility software, modern apps and a range of technology it has never been easier to bridge the digital divide, support self-reliance, and bring the visually impaired back into the work force.
Join BCS Digital Divide Specialist Group's webinar featuring Kris Gibson from Southampton Sight to discuss supporting the visually impaired community on what, how, and where assistive technology can help them connect to the internet, negotiate smart phones, and retain independence. Himself severely sight impaired, Kris will also touch upon the issues of employment, the support available, and working with sight loss.
This is a free online session. When you attend you'll receive further details of how to join.
Sight Loss – A Life Lived Differently You will learn about:
Text-To-Speech Software
Laptop & Smart Phone Accessibility
Electronic Magnifiers + Other Assistive Technologies
Access To Work – What, Who and How
About the speakers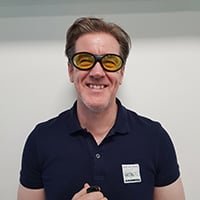 Kris Gibson
Kris Gibson has lived and worked in Southampton now for many years and feel a true connection with the local community, and so it is a great joy to be a Sight Loss Advisor at Southampton Sight. Having been born with a degenerative eye condition, it is fair to say that Kris Gibson comes with a lifetime's experience.
Kris believes passionately that the loss of sight does not mean the loss of life and strive to meet the needs of others to support independent and full living. After all, in this brave new world of high-tech wizardry, where there's a will, there's an app!
Our events are for adults aged 16 years and over.
BCS is a membership organisation. If you enjoy this event, please consider joining BCS. You'll be very welcome. You'll receive access to many exclusive career development tools, an introduction to a thriving professional community and also help us Make IT Good For Society. Join BCS today
This event is brought to you by: BCS Digital Divide specialist group, BCS Hampshire branch and BCS Dorset branch