How will Quantum Advantage be achieved and are organisations ready for this new era in computing?
Speakers
Kate Marshall - Developer & Global Technical Ambassador Lead at IBM Quantum
Michael Schwitters - Founder and Managing Director of Schwitters Associates
Agenda
6:30pm - Presentation begins
8:00pm - Presentation ends - networking with refreshments at BCS London
9:00pm - Event ends
Synopsis
This event will focus on the fast-approaching age of Quantum Advantage - what this means, how it will be achieved and whether organisations are ready for this new era in computing. Join us to discuss how we can prepare for Quantum Advantage, by upskilling our workforces and pushing the boundaries of state-of-the-art quantum computing application development.
About the speakers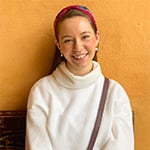 Kate Marshall
Kate leads a global team working directly with clients to help them understand the industry impact of quantum computing. Kate has a deeply technical background in Physics and passion for quantum theory, communication and computation.
She originally started her career as a DevOps engineer and IT architect, but recently moved into a role that combined both of these passions and areas of experience. Outside of IBM Quantum, she is a member of the TechUK and BCS Quantum Working Groups and leads the Global Tech Advocates Quantum Working Group.
Michael Schwitters
Michael focuses on advising clients and investors on emerging technologies, including quantum computing. Previously Michael has been a partner with EY leading the firm's UK Technology Strategy and Emerging Tech competency as well as being EY's UK Quantum Computing lead. Michael has a PhD in Physics with a specialisation in quantum physics, with his PhD being about lab grown synthetic diamonds for quantum applications.
He was formerly part of DeBeer's industrial diamond research team that pioneered the use of lab-grown gem stones for quantum computing.
Our events are for adults aged 16 years and over.
BCS is a membership organisation. If you enjoy this event, please consider joining BCS. You'll be very welcome. You'll receive access to many exclusive career development tools, an introduction to a thriving professional community and also help us Make IT Good For Society. Join BCS today
For overseas delegates who wish to attend the event, please note that BCS does not issue invitation letters.
COVID-19
BCS is following government guidelines and we would ask attendees to continue to also follow these guidelines. Please go to https://www.nhs.uk/conditions/coronavirus-covid-19/ for more information, advice, and instructions.
This event is brought to you by: BCS London Central branch, BCS London North branch and BCS London South branch