Join us as we look at getting into project management.
Watch the video
Synopsis
Project management as a career of choice has never been more popular. Increasingly organisations of all kinds look to projects to either help improve operations, providing more to their customers, or making real transformational change to the public and the wider society.
Maybe it's the diversity of opportunity in project management that makes it attractive as a career choice, or the fact that they tend to be well-paid. Perhaps it is the challenge or working in a role with such accountability and responsibility or that sense of accomplishment with a result or outcome achieved.
Whatever drives people to consider project management as a career, one of the early hurdles they face is how to get into a project management role.
In this session we take a look at a number of different routes into project management and share practical tips on how you can start planning your way into one of the most exciting careers available today.
We will cover:
The different types of positions available for those new to project management
Understanding which transferable skills are really needed in project management today
The development areas you need to be thinking about and closing skills gaps
What you can be doing to find that first role.
You will also have the opportunity to ask your own questions too.
You will leave the session bursting with ideas and some practical steps you could be taking to make working in project management become a reality.
About the speakers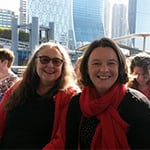 Eileen Roden and Lindsay Scott are co-founders of the House of PMO – a professional body for people working within PMOs today (just one of the many rewarding careers in project management today)
Eileen is an experienced project management consultant, trainer, speaker and coach, whilst Lindsay is an experienced project management careers coach, speaker and ex-recruiter.
Between them, they've helped hundreds of people working in project management – whether that's becoming better at what they do through closing skills gaps – or finding the right project management positions to help their careers grow.
You can find out more about House of PMO
Our events are for adults aged 16 years and over.
BCS is a membership organisation. If you enjoy this event, please consider joining BCS. You'll receive access to many exclusive career development tools, an introduction to a thriving professional community and also help us make IT good for society. Join BCS today
This event is brought to you by: BCS Project Management specialist group (PROMS-G) and BCS Women specialist group