Join Mayank to discuss scalable digital transformation and how to implement this change effectively.
Speaker
President of BCS Mayank Prakash
Agenda
6:25pm - Join the webinar with your connection details
6:30pm - Webinar starts with BCS notices
6:40pm - Panellists intro statements
7:00pm - Open questions & discussion
8:00pm - Webinar ends
Synopsis
Mayank led arguably one of the largest digital transformation projects as Chief Information and Digital Officer of the United Kingdom's Department for Work and Pensions (DWP), where he and his team delivered an online state pension forecasting system that has delivered 10 million pension calculations and the new 'Find a job' tool, which supported 40 million job searches in its first three months.
As part of this presentation Mayank will discuss scalable digital transformation and how to implement this change effectively. During the pandemic, Mayank was former Centrica global consumer CIO, where his digital transformation skills were utilised to change and digitise all of their digital channels and customer journeys.
Mayank's expertise will provide you with insight around how society engages in how tech is transforming lives, and how organisations ensure employees, and the wider society is taken along on that transformative journey. He will explain how it is our responsibility as information technology professionals to retain the trust of society, so that we can keep exploring the possibilities of technology.
Digital transformation within every sector needs to reach the point of optimum digital capability with all managers being comfortable with technology because of the endless opportunities it offers for capability and innovation, especially as we embark on the UK's journey to become the new 'Silicon Valley'.
About the speaker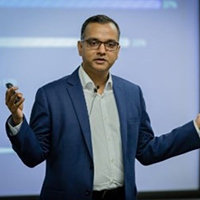 President of BCS Mayank Prakash
Mayank Prakash is the Group Chief Operating Officer for Evelyn Partners, the UK's largest integrated wealth management and professional services group and serves on the Board of Uber UK. He has previously led digital transformation at the UK Government for the UK's biggest IT and Operation estate scaling digital services for 13 million people and for FTSE100 and Fortune 500 industry leaders.
An experienced digital transformation leader and CIO with a passion for design, technology, innovation, people and exceptional business outcomes backed by a consistent track record across industries delivered by high performing global teams.
Our events are for adults aged 16 years and over.
BCS is a membership organisation. If you enjoy this event, please consider joining BCS. You'll be very welcome. You'll receive access to many exclusive career development tools, an introduction to a thriving professional community and also help us Make IT Good For Society. Join BCS today
For overseas delegates who wish to attend the event, please note that BCS does not issue invitation letters.
COVID-19
BCS is following government guidelines and we would ask attendees to continue to also follow these guidelines. Please go to https://www.nhs.uk/conditions/coronavirus-covid-19/ for more information, advice, and instructions.
CPD Credits: This event counts for two hours towards your CPD. More information is available at www.bcs.org/cpd.
This event is brought to you by: BCS Consultancy specialist group