Is there a better way of interacting with digital forensic data from a user interface and user experience standpoint?
Watch the video
Synopsis
The NPCC (2020, p.5) states that: "Digital forensic (DF) science - examining digital evidence to support investigations and prosecutions - was once niche but is now very much mainstream.
Over 90% of all crime is recognised as having a digital element, and society's accelerating use of technology means the critical role DF science plays will only grow". They identify three core challenges:
the sheer volume of data and devices leading to backlogs and delays in investigations;
the complexity of digital examinations including the variety of devices available, use of encryption, the number of data formats used, and the increasing use of cloud storage;
and
the need to maintain the legitimacy of the police in the digital landscape given 1 and 2 and law enforcement's need to work in new ways to deal with these issues. (ibid.)
Given the volume of data and complexity of the examinations digital forensic (DF) practitioners work with regularly, this research interviewed 12 DF practitioners in an attempt to understand how the user interface of DF tools may exacerbate these issues, and what their suggestions may be to mitigate these. This work explores the responses, provides and initial analysis, and provides suggestions for how these findings may feed into the next generation of DF tools.
NPCC (2020) Digital Forensic Science Strategy (PDF) (Accessed: 06 October 2022).
About the speaker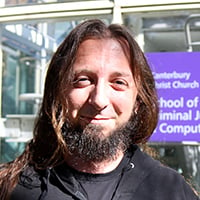 Danny Werb is a Lecturer and PhD candidate in Computing and Digital Forensics at Canterbury Christ Church University. His research is focused on the user experience aspect of digital forensic tools and those who use them, with a particular lens on the feasibility of Virtual Reality to augment and enhance the practitioner's experience.
Danny has taught on several modules including Cybersecurity, Digital Forensics, Advanced Computer Networks, and Operating Systems, and currently leads on Digital Forensics and Ethical Hacking and Data Recovery and Analysis.
Our events are for adults aged 16 years and over.
BCS is a membership organisation. If you enjoy this event, please consider joining BCS. You'll be very welcome. You'll receive access to many exclusive career development tools, an introduction to a thriving professional community and also help us Make IT Good For Society. Join BCS today
This event is brought to you by: BCS Cybercrime Forensics specialist group, BCS Hampshire branch and BCS Dorset branch