Join Mike Bullock to find out more about the Northern Lighthouse Board and how they are using technology to aid navigation.
Speaker
Mike Bullock OBE, Chief Executive of the Northern Lighthouse Board
Agenda
6:00pm - Refreshments and networking. Refreshments kindly provided by Skyscanner.
6:30pm - Event starts
8:30pm - Estimated finish time
Synopsis
The Northern Lighthouse Board has provided a vital safety service to mariners since 1786 and is responsible for the superintendence and management of all lights, buoys and beacons within Scottish and Isle of Man waters.
The service makes a significant contribution to the prevention of accidents and incidents around the coastline, safeguarding not only lives and property, but also protecting our precious marine environment.
Find out about NLB's rich heritage and history and how technology plays a vital role in ensuring that NLB's aids to navigation meet the evolving requirements of the mariner.
About the speaker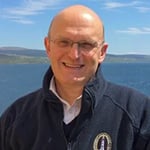 Mike Bullock OBE, Chief Executive of the Northern Lighthouse Board
Mike Bullock took early retirement from the Royal Navy in the rank of Commodore to join the Northern Lighthouse Board as Chief Executive in April 2014.
During his naval career of 34 years, he served in a total of six ships and submarines. He also worked in the British Embassy Washington DC, the NATO Headquarters in Northwood London, the Ministry of Defence in Whitehall and the Pentagon as the UK representative for Logistics.
His final appointment was in Navy Command Headquarters, Portsmouth, where he had responsibility for Logistics and Infrastructure for the Royal Navy, Royal Marines and Royal Fleet Auxiliary.
He is a graduate of the Royal College of Defence Studies, holds an MA in International Security and Strategy from King's College London, is a Non-Executive Director of the Scottish Maritime Cluster, a member of the Hammermen of Edinburgh and High Constabulary of the Port of Leith, a Fellow of the Institute of Transport and Logistics, a trustee of the Museum of Scottish Lighthouses in Fraserburgh and a trustee of the Northern Lighthouse Heritage Trust.
He was awarded an MBE in 1990 and an OBE in the 2021 New Year's Honours list for Services to the Safety and Welfare of Seafarers.
Our events are for adults aged 16 years and over.
BCS is a membership organisation. If you enjoy this event, please consider joining BCS. You'll be very welcome. You'll receive access to many exclusive career development tools, an introduction to a thriving professional community and also help us make IT good for society. Join BCS today. 
For overseas delegates who wish to attend the event, please note that BCS does not issue invitation letters.
COVID-19
BCS is following government guidelines and we would ask attendees to continue to also follow these guidelines. Please go to https://www.nhs.uk/conditions/coronavirus-covid-19/ for more information, advice, and instructions.
This event is brought to you by: BCS Edinburgh branch