Join Jack Bonnell for this interactive presentation.
Watch the video
Synopsis
The presentation is based on Jack's experience using Abstraction Layers in both FPGA and CPU-based architectures to allow for the rapid development of client applications from the Robotics industry to the MetaVerse.
About the speaker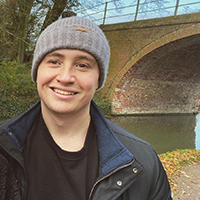 Jack Bonnell
Jack Bonnell graduated as a Network Engineer from Nottingham Trent University. Worked for 2 years as a Field Engineer at Sundance Multiprocessor Ltd on creating client-facing Abstraction Layers allowing customers to interact with FPGAs using C++. Moving into the Medical Field creating a Card to Host FPGA accelerated Vision products for Surgeries. He is currently working in the MetaVerse space for Magnopus LTD building an Abstraction Layer allowing for multi-platform client development.
Our events are for adults aged 16 years and over.
BCS is a membership organisation. If you enjoy this event, please consider joining BCS. You'll be very welcome. You'll receive access to many exclusive career development tools, an introduction to a thriving professional community and also help us Make IT Good For Society. Join BCS today
This event is brought to you by: BCS Nottingham and Derby branch