Pita Arreola-Burns & Elliott Burns will discuss post Internet curation & Off Site Project, the online curatorial platform they founded 2017.
Speakers
Pita Arreola-Burns and Elliott Burns
Agenda
7:00pm - Introduction
7:05pm - Presentations
8:00pm - Questions
9:00pm - Close
Synopsis
Originally coined in 2006 by Marisa Olson, the term Post Internet Art broadly characterises digital and non-digital art practices that are informed by internet aesthetics and socio-cultural effects. This presentation aims to identify similar shifts that have been prototyped in the emergent arena of online curatorial practice.
Drawing on their own curatorial vehicle - Off Site Project - and close involvement with a global network of contemporaries, Pita Arreola-Burns and Elliott Burns will identify certain trends and behaviours of the Web 2.0 era, before speculating on the new trajectories implied by Web 3.0 curation.
About the speakers
Off Site Project is an online curatorial platform founded by Pita Arreola-Burns and Elliott Burns in 2017. Via homepage exhibitions, downloadable ZIP shows and a residency situated in Google Maps it supports emerging new media artists and addresses pressing techno-sociological topics.
Through partnerships, Off Site Project has created exhibitions and projects for anonymous gallery, the Austrian Cultural Forum London, distant.gallery, Electric Artefacts, INDUSTRA, isthisit? and the Summer Works Festival. On the subject of online art ecosystems, they have been invited to speak at Central Saints Martins, Centro de Cultura Digital, the CSNI, the DRHA conference, Goldsmiths, Modern Art Oxford, the RCA, Somerset House Studios, Tate Exchange, the UCL Multimedia Anthropology Lab, the University of Denver and the Whitworth Gallery.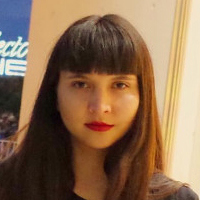 Pita Arreola-Burns is Curator of Digital Art at the V&A. Through her role in the museum, she has generated projects to produce new knowledge around historical artworks from the digital art collection and links between pioneering and emerging generations of digital artists. Previously, she has held positions with Furtherfield Gallery and had a career in Cultural PR & Communications.
Elliott Burns is a Lecturer in Digital Cultures at Central Saint Martins. Recently he has coordinated an R&D project for the British Council exploring visions for majority world orientated UI online collection design and with I-AM has investigated compound disadvantages in the CCI sector, informing the creation of the WeTransfer Supporting Act Foundation.
Our events are for adults aged 16 years and over.
BCS is a membership organisation. If you enjoy this event, please consider joining BCS. You'll be very welcome. You'll receive access to many exclusive career development tools, an introduction to a thriving professional community and also help us Make IT Good For Society. Join BCS today
For overseas delegates who wish to attend the event, please note that BCS does not issue invitation letters.
This event is brought to you by: BCS Computer Arts Society