This Festschrift Symposium celebrates the 80th birthday of Prof. Jifeng, an important contributor to the field of formal methods.
Speakers
Jifeng He, Tongji University
Jonathan Bowen, London South Bank University
Huibiao Zhu, East China Normal University
See agenda below for full list of speakers
The online proceedings is now available free for download via a link at the bottom of the page for around four weeks from the time of the Symposium.
Springer information is now available and the overall proceedings and individual papers by paper number
have DOIs of the form:
https://doi.org/10.1007/978-3-031-40436-8
https://doi.org/10.1007/978-3-031-40436-8_1
Agenda
(Times are in BST and are for compatibility with the time in China, 7 hours difference.)
Day 1 - Friday 15 September 2023
06:30am - Opening Speech Jifeng He, East China Normal University, Shanghai, China
06:45am - Jifeng He at Oxford and Beyond: An Appreciation
Jonathan Bowen, London South Bank University, London, UK
Huibaio Zhu, East China Normal University, Shanghai, China
07:15am - UTP, Circus, and Isabelle
Frank Zeyda, Guadalajara, Mexico
07:45am - Linking Formal Methods in Software Development - A Reflection on the Development of rCOS
Zhiming Liu, Southwest University, Chongqing, China
08:15am - Break
08:40am - Consciousness by Degree
Jeff Sanders, African Institute for Mathematical Sciences, South Africa
09:10am - Specifying and Reasoning about Shared Variable Concurrency
Ian Hayes, The University of Queensland, Australia
09:40am - The Consensus Machine: Formalising Consensus in the Presence of Malign Agents
Bill Roscoe, University of Oxford, UK
10:10am - Break
10:30am - Domain Modelling: A Foundation for Software Development
Dines Bjørner, The Technical University of Denmark, Holte, Denmark
11:00am - Logical Algorithmics
Moshe Vardi, Rice University, Houston, USA
11:30am - Additional tributes
Bernard Sufrin, University of Oxford, UK (et al.)
Day 2 - Saturday 16 September 2023
06:30am - Characterizations of Parallel Real Time Workloads
Wang Yi, Uppsala University, Sweden
07:00am - Towards Efficient Data flow Test Data Generation
Ting Su, East China Normal University, Shanghai, China
07:30am - Assume Guarantee Reasoning for Additive Hybrid Behaviour
Kim Larsen, Aalborg University, Denmark
Jonas Hansen, Aalborg University, Denmark
08:00am - Break
08:30am - Time: It is only Logical!
Frédéric Mallet, Université Côte d'Azur, Nice, France
09:00am - Applying Formal Verification to an Open Source Real Time Operating System
Andrew Butterfield, Trinity College Dublin, Ireland
09:30am - KnowLang - A Formal Specification Model for Self Adaptive Systems
Mike Hinchey, University of Limerick, Ireland
Emil Vassev, University of Limerick, Ireland 
10:00am - Break
10:15am - Concurrent Hyperproperties
Ernst Rüdiger Olderog, University of Oldenburg, Germany
10:45am - A Coq Implementation of the Program Algebra in Jifeng He's New Roadmap for Linking Theories of Programming
Qin Li, East China Normal University, Shanghai, China
11:15am - Closing
Jifeng He, Tongji University, Shanghai, China
Synopsis
The 80th birthday Festschrift symposium for Prof. Jifeng He ("Jifeng@80") is to be held during 15–16 September 2023, at the Shanghai Science Hall in Shanghai, China.
This historic venue was built in the early 20th century within the French Concession area of Shanghai, previously as a school and for other purposes.
In the 1950s, it became the Science Hall, and the facility has since been extended with newer buildings for scientific meetings and related activities.
A Festschrift volume is due to appear in the Springer Lecture Notes in Computing Science series (LNCS 14080), containing papers relevant to formal methods by colleagues of Jifeng He, many of whom have been coauthors of academic papers with him.
This proceedings is a follow-on volume to that associated with
Jifeng He's 70th birthday Festschrift symposium (LNCS 8051).
About the speakers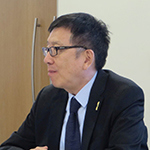 Jifeng He
Jifeng He was born in Shanghai China, in August 1943. He graduated in 1965 from the Department of Mathematics at Fudan University, located in Shanghai. Since 1965, he has held a position at East China Normal University (ECNU) in Shanghai, successively serving as a teaching assistant and then lecturer, and was promoted to full professor in 1986. In 1988, he was awarded the title of National Young and Middle-aged Experts with Outstanding Contributions.
From 1980 to 1981, he was a visiting scholar at Stanford University and the University of San Francisco in California, United States. From 1983 to 1998, he worked as a senior researcher in the Programming Research Group (PRG) at the Oxford University Computing Laboratory (OUCL) in the United Kingdom, collaborating extensively with Tony Hoare, based in Oxford although retaining his position at ECNU. He was an important researcher on the European ESPRIT ProCoS project on "Provably Correct Systems" from 1989 and an essential collaborator with Tony Hoare on the Unifying Theories of Programming (UTP) approach that has spawned an important subfield of formal methods.
From 1998, Jifeng worked as a senior researcher at the International Institute of Software Technology of the United Nations University (UNU/IIST) in Macau.
During 2002 to 2019, he was the Dean of the Software Engineering Institute at East China Normal University (ECNU). In 2002, he joined the first group of lifelong professors of ECNU. He was elected in 2005 as an academician of the Chinese Academy of Sciences, the highest scientific recognition in China. He received an honorary doctorate from the University of York in2009.
In December 2015, he was awarded the French National Palm Education Knight Medal. From 2017, Jifeng started to consider the issues around trustworthiness in Artificial Intelligence (AI). In 2019, he was appointed as the Distinguished Professor at Tongji University located in Shanghai. Jifeng's research interests have included sound methods for the specification of computer systems, communications, applications, and standards, as well as techniques for designing and implementing those specifications in software and/or hardware with high reliability.
Shanghai Huake Zhigu Artificial Intelligence Research Institute
Our events are for adults aged 16 years and over.
BCS is a membership organisation. If you enjoy this event, please consider joining BCS. You'll be very welcome. You'll receive access to many exclusive career development tools, an introduction to a thriving professional community and also help us Make IT Good For Society. Join BCS today
For overseas delegates who wish to attend the event, please note that BCS does not issue invitation letters.
This event is brought to you by: BCS Formal Aspects of Computing (FACS) specialist group