How technology has brought independence and confidence to the daily lives of the blind and vision impaired community.
Speakers
Freddie Quek - Chief Technology Officer at Times Higher Education and Chair of BCS Digital Divide SG
Kirsty McIntosh - Head of Partnerships for the Scottish Tech Army
Kris Gibson - Sight Loss Advisor at Southampton Sight
Agenda
5:00pm - Introduction by Freddie Quek
5:05pm - Presentation by Kirsty McIntosh and Kris Gibson
5:45pm - Questions and answers
6:00pm - Finish
Synopsis
The blind and vision impaired community has long championed the benefits of assistive technology to bring independence and confidence to their daily lives. Irrespective of age or ability, its support organisations dedicate time and resources to helping people 'go digital'.
It has its challenges, however. Only 30% of blind and vision impaired people of working age are in employment and much of the technology can be prohibitively expensive. In addition, really useful tech appears in the sector and is then withdrawn with little or no notice, usually for commercial reasons, leaving users who have learned to depend on it scrambling around for alternatives.
Freddie, Kris and Kirsty discuss what's working for the sector, the difference technology makes and the lessons other sectors can take to encourage digital adoption - and poses the question of how we ensure that good tech for a dependent user base is funded in a sustainable manner.
About the speakers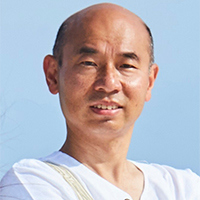 Freddie Quek is Chief Technology Officer at Times Higher Education. He is recognised as UK's top IT leaders by CIO100 and Computing. In 2021, he started the #joiningthedots initiative joining up 13 tech communities to address #digitalinclusion, becoming a Community Board member of the Digital Poverty Alliance and Chair of the BCS Digital Divide Specialist Group. He serves on the boards at University of Bristol, BCS Influence Board and eLife, and a member of the Technology Advisory Group of the Royal Society of Chemistry. He co-founded TechLinkUkraine to help displaced Ukrainian tech professionals which has now joined forces with BlueHope.ai in supporting all displaced refugees regardless of conflict or country. Freddie is a Fellow of BCS and judge for the UK IT Industry Awards. He has Masters degrees from the London School of Economics and Henley Business School, and is an alumnus of Oxford University. Currently he is a Research Associate at Henley Business School.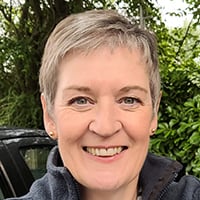 Kirsty McIntosh is Head of Partnerships for the Scottish Tech Army, a not for profit that supports charities with tech volunteers. She is one of the organisation's "First Responders", having signed up on the organisation's launch day during the pandemic and amongst other responsibilities is developing its UK wide initiative, theTech for Good Alliance which provides a framework for skilled volunteering opportunities for tech and tech related corporates. She is Vice Chair of Seescape, a regional sight support charity, Patron of The Teapot Trust, an art therapy charity supporting young people living with chronic illness and an Ambassador for the Digital Poverty Alliance.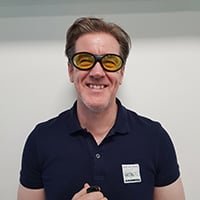 Kris Gibson has lived and worked in Southampton now for many years and feel a true connection with the local community, and so it is a great joy to be a Sight Loss Advisor at Southampton Sight. Having been born with a degenerative eye condition, it is fair to say that Kris Gibson comes with a lifetime's experience. Kris believes passionately that the loss of sight does not mean the loss of life and strive to meet the needs of others to support independent and full living. After all, in this brave new world of high-tech wizardry, where there's a will, there's an app!
Our events are for adults aged 16 years and over.
BCS is a membership organisation. If you enjoy this event, please consider joining BCS. You'll be very welcome. You'll receive access to many exclusive career development tools, an introduction to a thriving professional community and also help us Make IT Good For Society. Join BCS today
For overseas delegates who wish to attend the event, please note that BCS does not issue invitation letters.
This event is brought to you by: BCS Digital Divide specialist group, BCS Hampshire branch and BCS Dorset branch