Lifetime Achievement Award - 2004
Former BCS President Dame Stephanie Shirley was honoured with the 2004 Lifetime Achievement Award recognising the considerable and longstanding achievement she has made to the IT industry.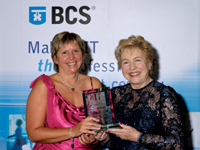 Dame Shirley is an outstanding business woman. She was the founding director of Xansa (formally FI Group Plc) - an innovative business venture which became one of Britain's leading Information Technology Groups; pioneering new work practices and changing the position of professional women, especially in hi-technology.
Since retiring as Honorary Life President in 1993, her focus has been increasingly on charitable work and her strong belief in business people giving something back to society. Her main interests are autism and making better use of IT in the voluntary sector. Her charitable Shirley Foundation is now one of the top 50 grant-giving foundations in the UK with £50m donations committed over the past six years. It supports autistic and IT causes, and has initiated and funded a number of projects that are pioneering by nature, strategic in impact and significant in money terms.
Her action-oriented management style, and emphasis on ethics and professional standards led to her being awarded the OBE for Services to Industry in 1980 and the Freedom of the City of London in 1987. She was President of BCS from 1989 to 1990 and is Past Master of the Worshipful Company of Information Technologists. Dame Stephanie was awarded a DBE in 2000.