Luke Hackshaw, Thames Water
Runner-up in the 2020 Project Excellence awards: AI/ML Project of the Year.
What does it mean to you to win this award?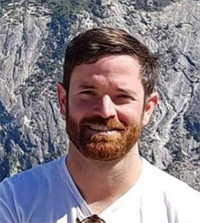 As a product owner, it's my role to maximise the value of our app. I also see it as intrinsically linked to making the development team's work meaningful, by helping them see what a difference they make.
Working at a water utility, I am aware that technological innovation is not what the industry has been commonly cited for. Winning this award for my team has helped us to be seen and valued by the wider tech industry and appreciated to a greater degree, which I hope puts a wider smile on my team's face.
As well, I'm proud to have signalled that Thames Water explores all avenues to serve our customers better - and we excel when we do. If that can inspire more water utilities to innovate in this way, then we've generated public value beyond what we would have originally dreamed! I find that inspiring.
Talk us through your career
I first joined Thames Water in 2011 as a temporary staff hire, then moving into a management position for our Planning department. After this I worked a few years in Leakage Management ensuring that Thames Water could reduce the volume of leakage on its network. I would also return a few years later as a manager of this function, helping to increase our work output and efficiency in leak detection.
It was in my first few years at Thames Water, I grew a hunger to improve the way we worked, which led me to become a project manager in the Transformation team. There I worked on an exciting project to reduce supply interruptions on Thames Water's network and was able to save over 100,000 customers from interruption, helping to avoid significant regulatory penalty.
I successfully pitched and secured funding to work with an external company redesigning a patented medical technology for use in the water industry and while it was not immediately successful, I learnt a lot about the culture and environment required to successfully nurture innovation.
My four years of project management were largely waterfall
based, and I developed an itch to work in a more responsive way to our customers, discovering the agile way of working.
It was actually this desire to pursue agile - and my realisation that most change I administered was largely dependent upon integrated IT - that led me to become a product owner, when agile and product ownership was still a relatively new concept to Thames.
I was instantly hooked to this way of working and really excited by the many ways we could apply data science to our problems. We set some big goals to aim for, after which a lot of time is spent speaking to experts, incorporating ideas into our AI, experimenting, and testing with our users.
I also used my experience to help stitch together various products that were starting up in the Smart Water space, helping to leverage each other's strengths. It's been a great ride, and fantastic to be recognised with two awards in the industry for our work!
What does a typical working day involve?
First thing on the menu is a latte from my home barista machine, one of the many perks of working from home! As I work in an agile set up, usually the first meeting I have each day is a stand up, and this really is an effective way for me to stay connected to the development.
If I'm in a planning week, it can be all about prepping for the sprint ceremonies and ensuring I've sufficiently outlined the work I intend to hand to the development team.
Outside of a planning week, it's about reviewing some of the complex data science work the team produces, and other features that require feedback to ensure it meets the outlined problem. To keep our team honest, I often need to review our development with our users. I'm also working with departmental heads to ensure we've got the right change support and culture in place to adopt the new technology, and that they champion the change.
Then it's for me to stay connected to other key stakeholders, building workshops, or engaging directly to ensure that the roadmap I'm putting into place is relevant and serves the business needs. While the rest is about being curious and following up technical suggestions to understand how we can do things differently.
What does Thames Water do?
As the UK's largest water and wastewater utility, Thames Water serves 15 million customers, delivering water to our customers, and then safely taking it away - so that they, the communities and environment we sit within can thrive.
Career highlight to date:
It has to be successfully delivering this amazing app into Thames Water's operation last year, which leverages innovative artificial intelligence straight into the hands of technicians - giving them powerful insight on where to find water leaks on our network. For decades before this, they'd been using paper maps, lists of historical leak info and working with their best judgement.
We had to overcome a significant cultural shift in how this insight was used. We dealt with three different organisations, understanding their change needs and adapting to ensure it was adopted, after which we empowered management with field performance insight from the app. This was instrumental in driving the right behaviours that maximised the AI insight being provided.
To see this technology translate into real business benefit, with more leaks being found and in less time - all with the users expressing their delight - is really a feat I'm still absorbing!
What advice would you give to someone considering a career in IT and AI?
You don't have to be a developer or similar, to be successful in this environment. I found that curiosity in technology and a humble and willing approach to learning, while thinking how you can translate a complex idea into a practical business solution, will really help you leverage AI into a broad range of applications.
If you can make AI relatable to the average person, often they'll be the ones to generate all the ideas on how to apply it. In this way, you've helped bring horizontal thinking to what can often be a vertically driven environment.
Who has been the biggest influence in your career?
I guess this is where I turn on the cliché but it's true - my parents have been the biggest influence on my career. They have allowed me to think freely, nurtured my curiosity, and supported me through my early career changes; in fact, every decision seemed to come with their full support behind me.
They may not have always known what the right answer was, but they made me feel confident that I would find it, and it's that confidence that's stayed with me, and allowed me to weather the more difficult times in my career. I see myself as an extension of them, so I hope I can carry on that legacy!
Who do you admire and why?
I suppose I admire those whom I can learn from, and this tends to change as I change. Also as I'm always looking to expand my horizons, you can't stay on one person for too long!
Currently, I'm pretty impressed with Teresa Torres, a well-known product discovery coach, and how she translates complex ideas into really simple answers, while captivating the audience. Finding the simplest answer is good for educating, and in AI product development if you can cut through the complexity and help someone understand how or why they should be supporting you - or using your app - then
you've got a secret sauce.
What are your aspirations; how would you like to progress?
I've really excited about product management so I'm keen to develop in that space, moving away from the daily beat into a more strategic position, aligning multiple products and products managers, creating a larger vision for a suite of products or a company, and proposing new products which leverage AI into untapped markets. Maybe even a Chief Product Officer in the not too distant future!
What are you happiest doing when you're not working?
I enjoy getting out on the bike or hiking in the countryside. There's really no better way to spend your time when the lockdown rules allow it!
Outside of getting in my exercise, I like learning about new things whether that's through reading new books or taking some sort of course. Right now I'm doing a writing course with City Lit. When we're allowed to mix again, a simple day with a few friends over a drink is pretty satisfying too.
Is there anything else you'd like to share with us?
It's hard to not talk about the lockdown and its impact on mental health. I have been lucky to weather it with only the occasional day where I've felt a bit restless or bummed.
For anyone who's struggling, there's help out there such as the Samaritans helpline and Mind Urgent help online. There's also your colleagues, friends and family - one of the more uplifting things about this lockdown is how aware we've all become of mental health, making people more caring and willing to help out. So, reach out!