BCS IT Leaders Forum: Executive committee
The executive committee of the forum, its terms of reference, and contact details.
Chair
Dr David Miller
David has worked in many business sectors in the UK and internationally as a manager or management consultant. Career has embraced most aspects of IT from development and operations to strategy and architecture and has held CTO, CIO, CMO, and CEO roles. MD of ITDYNAMICS for 20 years, a business and management consultancy specialising in IT. Author of 'Managing Agile Business Technology' (2022), and books on business focused IT (2008, 2005).
Vice Chair and Events 
Jonathan Leeson
Digital and technology leader with 28 years in a multi culture and multinational environment. Experience in digital strategy, technology, sourcing, business transformation and change portfolios at an executive/board level. I've recently set-up my own company The GTL (Global Thought Leaders) focusing on Business and Digital Transformation opportunities. I'm currently building a portfolio of non-executive and advisory roles based on prior experience. I'm a Fellow, CITP and CEng/IEng assessor for the BCS Institute of IT and the events lead for IT Leaders Forum. Outside of my profession I'm enjoy competing in sporting events including Triathlons, Cycling and Motorsport.
Inclusion Officer
Norman King
Norman has 25 years' experience working in the IT industry. Spending 14 years at Birmingham City University's – Technology Innovation Centre, engaging with hundreds of small and medium sized enterprises, predominately working with executive teams on a variety of local, regional, national & European funded Technology Transfer projects in the Jewellery, Manufacturing, Automotive and Light Engineering sectors. Facilitating bespoke initiatives including Enterprise Architecture, Database systems & Business Process Mapping for ERP systems implementations. In tandem with his commercial activities, university responsibilities included positions as a Senior Lecturer, Consultant Lecturer and Assistant Centre Manager. Norman is currently Head of Computing at a high performing Grammar School in Birmingham and has been a member of the BCS for 18 years.
Voluntary and community services are equally important to Norman, with 10+ years' experience as a mentor in numerous professional settings including working with young offenders (West Midlands Probation Service) to mentoring new BCS members in the embryonic stages of their career.
Norman hopes for greater diversity and inclusivity within the technology sector, which will result in an even better future world of technology.
Secretary
Phil Crewe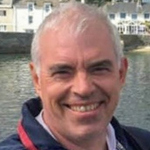 I have been a member of the BCS for all my working life and have been interested in and implemented the areas it has pioneered. I have been involved with the BCS IT Leaders Forum (formerly ELITE) member for 18+ years.
Whilst technically being interested in Networking and Communications, and am an Architect, I am also a strong believer in the capability of a team of people working together. I have built teams during my career that changed business internal perception of IT to make the technology team a business change asset, rather than only a support function.
Marketing and Communications
Chris Fowler
Bio to follow.
Treasurer
Karl Smith
Bio to follow.
Early Careers Advocate
Matthew Taylor FBCS CISSP CCSP
Matthew is a technology transformation leader at one of the Big Four. He previously led large-scale complex global IT transformation, delivery and recoveries for over 20 years at Accenture. He has also taught at Accenture's training facility in Chicago and was an elite quality assurance lead on global delivery, solutioning, best practice and governance.
Privileged to lead, coach and mentor large international teams and work in Europe, US and India, Matthew has experienced an incredibly valuable range of cultures and working environments with some great clients across industries and government. He is a technologist at heart, who enjoys constantly learning and hearing new perspectives.
Academic Liaison
Dr Jon Hall
Chair and Director with over two decades' experience leading governance activity across a range of organisations including large professional bodies and major educational institutions and businesses. Knowledge exchange ERDF grant winner for work with SMEs.
MBA qualified with an expert knowledge of the Education sector, Jon brings fresh perspective and delivers practical solutions to any organisational challenge. A highly independent, critical thinker with a track record of leading and advising effective change and project management, developing strategy and influencing and developing policy.
Jon Hall is also a leading research scientist in organisational problem solving. He has extensive experience in designing, leading and evaluating research programmes in many fields, including organisational change, fin tech, safety-critical systems, and project management and has a long history of delivering excellent value to business. Jon's research has influenced industrial practice both directly and through contributions to international standards.
In terms of his personal research, Jon began his scientific career as a logician in Newcastle and York Universities, conducting research on engineering alongside Professor John McDermid, FREng, one of the leading proponents of the use of mathematics in engineering. After researching logic for many years, Jon began to apply the techniques to software engineering and then more broadly across engineering, finding deep links between ostensibly different areas. His most recent research explores problem solving structures that bridge the chasm between agile and plan-driven approaches to solving complex problems holding out the hope that wicked problems, previously unsolvable, will soon be effectively understood and treatable.
Cyber Security Leader, White Paper Coordinator
Dr John McCarthy, CEO, Oxford Systems
John McCarthy is a renowned authority on cybersecurity strategy, development and implementation. He holds a PhD in Cybersecurity and eBusiness Development and is an internationally recognized author of a number of papers discussing all aspects of cybersecurity in the modern world.
John is frequently invited to sit on expert panels and appear as a speaker at well-known cybersecurity events. John is also a leading expert on social engineering awareness training and best practice.
Committee members
Christos Stavroulakis
Bio to follow.
Jacqui Hogan
Bio to follow.
Gordon Thompson
Bio to follow.
Ian Golding
Ian has been a Chief Information Officer, Chief Technical Officer and Data Privacy Officer, leading global commercial technology programmes for over 20 years. He is currently Group CIO of Anthesis Group, the world's largest group of dedicated sustainability professionals, and previously Interim CIO at the Natural History Museum. At the NHM he led the organisation's Technology Strategy and Vision to support its dual role as a centre of excellence in leading scientific research and a world-leading museum. He has also worked in interim leadership roles at SThree Plc, the RNLI and Southern Housing Group.
Ian has a passion for fostering collaboration and innovation to exploit the benefits of technology and data in permanent, interim, fractional and private consulting roles. he is a Fellow of The Institute of Directors, a Fellow of the Royal Society of Arts, a Fellow of the IET and a Chartered Professional Fellow of The BCS. He is also an investor who mentors digital startups. By devoting time to helping emerging businesses, his aim is to help grow the digital ecosystem.
Haiyan Wu
Bio to follow.
Prof Algirdas Pakštas DrTech, PhD, MSc, FBCS, SMIEEE, MITHS
BCS Assessor for a status of Chartered Information Technology Professional (CITP).
European Commission: Expert for the evaluation of the research project proposals, e.g. for FP6/FP7. 
Lithuanian Science Council (LMT.lt): Expert for the evaluation of the research project proposals, PhD top-up stipendships. 
Centre for Quality Assessment in Higher Education of Lithuania (SKVC.lt):Expert. 
Participated as a Member in the "International Committee for Evaluation of the Provision of All Informatics Programmes in Lithuanian Higher Education Institutions.
Gill Ringland
Gill's early career included the Universities of Bristol, Edinburgh, Newcastle, and research at the University of California at Berkeley and Oxford. She did pioneering work in IT on systems and data architecture, at CAP, Inmos and Modcomp. She has been active in seven start-ups and was responsible for building a £3bn new business over four years for computer firm ICL. She wrote the book "Scenario Planning" based on her strategy role at ICL.
She was CEO, Director and a Fellow of SAMI Consulting (Strategy with a view of the future) from 2002 to 2017, with clients in the public, private and NGO sector from Mexico to Malaysia, including the European Commission. She became an Emeritus Fellow in 2017. From 2017 to 2021 she was a Director of Ethical Reading, established to create a community of organisations in the Reading area who do the right thing by each other, the wider community and the environment, and thrive in the process.
Since 2022 she has been working with the ITLF on improving visibility of the threat to the economy and society from digital system failure. Phase One resulted in two major publications: Software Risk and Resilience and NPC BCS Software Risk - The Elephant in the Room (nationalpreparednesscommission.uk). Phase II of the work in 2023 covers Policy, Operational Resilience, research on complex tightly coupled systems; and working with intermediaries such as Universities, insurance companies.
She has B.Sc. and M.Sc. degrees, is a Life Fellow of the British Computer Society, an ICL Fellow Emeritus and a Fellow of the World Academy of Art & Science. She is a graduate of Stanford University's Senior Executive Program; and a Liveryman of the City of London. She was co-opted to the UK Science Research Council's Computing Science Committee, the UK Economic and Social Research Council, and to three European Commission High Level Expert Groups on Foresight.
She has over 100 publications: her books on Scenario Planning and strategy are used at Business Schools including Harvard. Her next book, the 10th, is in preparation, with Patricia Lustig, on the use of Foresight in Management. She publishes regularly on the Long Finance blog on Foresight and IT topics.
Shakeeb Niazi CITP FBCS FIOEE FIET
An experienced business leader, with over 40 years of delivering business transformation within emerging digital technologies, whilst employing a rigorous business process. Shakeeb's passion is the intersection of technology, innovation, and entrepreneurship.
Shakeeb judges for IET and BCS on categories such as Future Unicorns, Technology Excellence, Sustainability, and NetZero.
He chairs the BCS Entrepreneurs group and sits on the IT Leaders Forum and chairs the IT Leaderpreneur initiative.
His current role is an Innovation and Growth Specialist for Innovate UK EDGE with a portfolio of Scientific, Biotech, AI/ML, and Deep tech clients.
The committee's terms of reference
The BCS IT Leaders Forum ToR should be read in conjunction with the BCS Member Group rules.
Contact us
To contact a member of the committee, please email itleaderscommittee@bcs.org.uk referencing their name/title at BCS IT Leaders Forum.