Dr Robina Chatham, author of The Art of IT Management
Robina shares some of the dos and don'ts of good leadership, talks about the difference between male and female managers, and reveals her number one tip for anyone taking their first step into management.

Robina's book, The Art of IT Management is available from our online bookshop.
About the book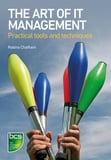 Many IT professionals who find themselves in a management position for the first time can find it daunting. With this book you will learn that management is about people rather than process or procedure, it is an art rather than a science.
There is no one particular right way, your approach has to be geared to the individual and the task in hand. With a focus on practical advice, this book will provide you with theory, hints and tips, case studies and examples from the world of IT management.
All the stories you will read in this book are true; all the advice has been personally tried and tested; all the tools and techniques have been applied by other aspiring leaders with positive results.