Sharon Moore and her team at BCSWomen Scotland are Diversity Initiative Finalist for SWiT Awards 2019
Sharon Moore announces: We're a finalist for the Diversity Initiative at this year's SWiT Awards.
The team at BCSWomen Scotland includes:
Sharon Moore, BCSWomen Deputy Chair and BCSWomen Committee Member for BCSWomen Scotland
Caitlin Clark
Ashley Ross
Paula Quiller
Wendy Goucher
Lindsay Campbell
Sjoukje Iljstra (since early 2019)
Nizza Samuel (since early 2018)
Araminta Yates (since June 2019)
Monica Connolly (since June 2019)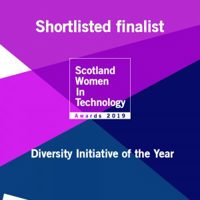 Congratulations! You are our Diversity Initiative Finalist for SWiT Awards 2019! Well done! 
SWiT are delighted to confirm that you are one of our Finalists for our prestigious awards ceremony to be held on 24th October 2019 at Radisson Blu Glasgow.
The 'Diversity Initiative of the Year' category was extremely competitive this year, with the most nominations to date so it is a fantastic achievement to be shortlisted and you should feel very proud of all you do to support women in technology.
We require all finalists to register acceptance of the nomination here
If you already plan to attend the event as part of a corporate table please do register via the link above and provide details in the comments section. If you are fortunate to be a finalist in more than one category please only complete one registration form.
As we have not yet activated the payments platform for table & ticket sales, we will take note of your attendance and mail again from this address when the link is live should you wish to purchase additional tickets for guests. As always, your attendance at this event is on us – you deserve it.
We have a large panel of impartial industry experts who will be judging your entries, before we send all the packs we want to give you one more opportunity to tell us why you should win this category so please take the opportunity. All form responses must be completed by end of play Friday 13 September. Unfortunately we cannot submit information to judges after this date and only your original nomination information will be used.
Lastly, SWiT and the Awards would not be the annual flagship technology event of the year without your ongoing support via social media. Attached is a logo to share anywhere you wish, put it on your email footer, make it into a poster, have it branded on a new coffee coaster….the options are endless. When you shout the news from the rooftops on Facebook, Twitter, or Linked In please tag us 'Scotland Women in Technology' or @Scot_WIT for Twitter and also use the #SWiTAwards2019 tag.
We are thrilled you have made it to the final and we cannot wait to celebrate with you next month. If you have any queries please feel free to use this email address.
SWiT (Scotland Women in Technology)
SWiT (known as Scotland Women in Technology) is a Scottish Charitable Incorporated Organisation (SCIO) regulated by the Scottish Charity Regulator (OSCR), Scottish Charity number: SC049443