BCS' Gillian Arnold wins Inspiration of the Year Award at the Everywoman in Technology Awards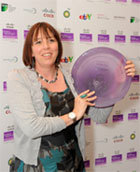 Gillian Arnold, Chair of BCSWomen, part of BCS, The Chartered Institute for IT, has won this year's Inspiration of the Year Award at the Cisco Everywoman in Technology Awards 2012.
"I am completely overwhelmed to be in receipt of the Inspiration of the Year Award," says Gillian Arnold. "Having met all the finalists across all categories it was a great honour to even be nominated – so to win is just fantastic. The Everywoman in Technology Awards are a brilliant way to celebrate the extraordinary contribution from women in the industry."
Recent statistics show that women working in IT managerial positions are being paid 30% less than men*. To address this and the shortage of women working in IT, BCSWomen, part of BCS, The Chartered Institute for IT, is supporting various events and initiatives to encourage women to think about a career in IT.
Gillian concludes: "BCSWomen is committed to supporting and encouraging female IT professionals. Through various mentoring and coaching programmes, as well as different events across the country we are really starting to see value in our efforts."
Kirstin Duffield, FBCS, Managing Director and CEO, Morning Data Ltd, won the Team Leader of the Year in an SME Award. The award was given to the 'woman leading a technology team to excel in a way that contributes greatly to the company's success'.
The Cisco Everywoman in Technology Awards 2012 took place on Thursday 29 March 2012 in London. The Rt Hon Dr Vince Cable MP, Secretary of State for Business, Innovation and Skills provided the Keynote Address, with Suzi Perry from Channel 5's The Gadget Show, acting as hostess.
About Gillian Arnold
Gillian has extensive experience in the IT industry and now runs her own company Tectre; which specialises in a broad range of IT services (focusing mainly on Green IT), staffing consultancy, and training and coaching (in particular on diversity). Most of her career was spent working for IBM in the UK and she has undertaken customer facing technical, sales, business development, strategic marketing and consultancy roles.
She proved her expertise in managing and establishing teams for new products, and building teams with cross-industry and cross platform experience in EMEA and the UK. Gillian sits on the board of Directors for the UKRC for Women in Science, Engineering and Technology, and contributes to various IT women's groups, as well as being Chair of BCSWomen. She is also a keen mentor.
Follow us on twitter: @bcs
*(29.5%) 2011 National Management Salary Survey, Chartered Management Institute
** Photograph © Copyright 2012 Everywoman Ltd