BCSWomen elects Sarah Burnett as its new Chair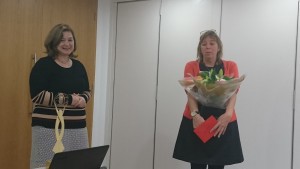 At the recent BCSWomen AGM on the 31 October 2016, Gillian Arnold, who has been the chair of BCSWomen for the past 5 years stepped down. Gillian took us through those years with superb leadership which saw the group being awarded the GEM trophy and our hugely successful Appathon as well as many other achievements such as the BCSWomen calendars and e-book.
Sarah Burnett was elected as the new chair by the AGM and below is a photo of Gillian and Sarah last Monday following the election and the meeting's tributes to Gillian.
Our new chair is a Vice President from Everest Group and has served along side Gillian as Deputy Chair. The AGM elected Sharon Moore who runs BCSWomen Scotland to serve as Sarah's Deputy.
Here's Sarah's supporting statement:
"I would like to put my name forward for the chair of BCSWomen. I have been deputy chair since September 2012 working with Gillian Arnold and our committee on a variety of events and initiatives including the app-a-thon, the various annual women in IT campaigns, and working with Fujitsu to help it increase the number of women engineers in the organization, among other things.
I am as passionate as ever about increasing the number of women in IT. My thoughts on how to continue to build on what Gillian and the committee have already achieved are:
Make BCSWomen a bigger initiative: I would aim to work with BCS to turn BCSWomen into a larger program – much like Tech UK's Women in Tech Council. The aim would be to get more funding and administrative support to help with organizing key initiatives in order to achieve specific goals each year, for example, helping a number of private sector companies make their recruitment policies female friendly. This will not replace all the wonderful voluntary work that we do and all the events that we organize but will be complementary to them. I realize it will require a lot of effort to achieve this objective but I will campaign for this tirelessly and will canvas influencers until it is done
Work with other BCS Groups: For example work with CAS to have more female tech role models speak at schools
Raise our profile nationally: Continue in Gillian's footsteps to run big headline grabbing events to raise our profile nationally – to get media coverage
Member training and information: Make more training and information available and accessible to our members via, our web site, career and returner events and app-a-athons.
I would work collaboratively with the committee on all activity and in particular for ideas and suggestions on the strategy that I have outlined and to set the agenda for activities each year.
In my day job, I am a reasonably well-recognized IT industry analyst. As Vice President of Research at Everest Group, I serve our European clients across Everest Group's global services research areas including IT and business processes services. I also lead Everest Group's research on automation and artificial intelligence globally.
I have and continue to lead teams of people who are geographically dispersed, to work well together and deliver against objectives. I have worked in the industry for more than 20 years in a variety of capacities, including in-house IT practitioner, outsourcing provider, and research analyst.
I contribute articles and comments to media, speak at corporate and industry events. I am also active in social media as a frequent blogger and Twitter user."