Dr Hannah Dee's blog on STEM gamechangers
STEM Gamechangers
By Hannah Dee, Aberystwyth University
On the 21 and 22 September I went to London for STEM Gamechangers at the Alan Turing Institute, which is in the British Library. The aim of the day was to try and build initiatives which could push forward the problem of diversity in STEM (Science, Technology, Engineering and Maths), and I was there representing Aberystwyth University and BCSWomen. We BCSWomen work with other organisations in tech and with other women's groups, but we don't talk as much to other disciplines (e.g. Physics), or to organisations dealing with other aspects of diversity. Which is a shame because a lot of our problems are shared.
The two-day event featured a mix of networking, inspirational keynotes, and some brainstorming and solution inventing; it concluded with a pitch to some judges about the solutions we'd brainstormed. The Alan Turing institute, as a venue, is very cool. For example, in the large meeting room (called Enigma) there was a set of Paolozzi prints on loan from Dame Stephanie Shirley.
The big themes coming out of the event were nearly all to do with . This is the way that people often don't just have one protected characteristic, and the way in which these different characteristics can complement or exacerbate the experiences of individuals. Diversity and inclusion needs to be able to deal with not just women and men, but non-binary people, gay people, trans people, disabled people, old and young people, people with mental health problems and any combination of these.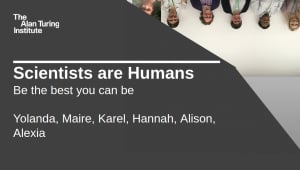 The pitch my group ended up developing involved building a more caring STEM profession. We all have different experiences and bring different things to the table, and we also have different roles at different times in our lives, we might be fine now but develop a disability, or caring responsibilities, for example. It's not possible to assume that everyone's able to be the "ideal scientist" working 70 hours a week and devoted to the cause of science. This applies to students as well as researchers and professors.
Our idea was to share experiences, ("the bad bits, the best bits and the ways to be better") so we can help people to be more kind. We built a little prototype mock-up of how the system would look, and thought through the semantic structure and organisation (largely tag-based) and structure, with plans for content and review. It could be really nice. We didn't win any funding but I am not sure that's going to stop us.

The rest of this blogpost has summaries of the keynote speakers: Tabitha Goldstaub, Emma Chapman, Ozak Esu and Alfredo Carpineti:
The first keynote was from Tabitha Goldstaub of CognitionX. Her talk looked at artificial intelligence and ethics, which fitted really well with a lot of work that BCSWomen have been doing with our AI Accelerator program. Ethically there are some big issues, and these are linked to two underlying problems. Garbage-in-garbage-out (if you have biased training data you're going to learn those biases), and the problem of monocultural teams.
We need to ask the questions:
Where's the data coming from?
Who's in the room?
The second keynote came from Emma Chapman, and was a mix of the personal and political. As a 2nd year PhD student, she was told that if she wants kids it's going to be a problem. Later, when she was on maternity leave, she was shut out of the library. Then she was involved in a sexual harassment incident, followed by what sounds like a long, horrible and drawn out sexual harassment case. To realise she's dealt with all of this and more and reached the heights she has (Royal Astronomical Society Fellow!) is a truly amazing.
The best bit of Emma's talk was her 7 point advice for changing things...
Be polite. Don't get your guns out straight away.
Separate policies from people.
Start small. Go for the little fish then shame the bigger fish into following. Institutions are terrified of shame.
Find Allies. Reform is a relay race.
Be forgiving. Us v them allows everyone down
Love the small victories. Change is incremental. You changed something, Eat CAKE
Walk away. Take time out when you need to. Put your oxygen mask on first.
Sometimes, you have to Get Angry.
Yes I realise that's 8 points, but I like number 8.
Ozak Esu was keynote number 3, and she won the IET Young Women Engineer award in 2017. Her talk was another mixture of personal story and tips. Diversity is about the mix. Coming to the UK from Nigeria, race was a new one for her as in Nigeria "hello we are all black". In the UK she found that this could shrink you in a way. As the only black person a conference of 800, she got asked "Where's the coffee?". Turning this around in a laugh-out-loud moment for the whole audience, she advised us: Always wear black to conferences, you can then guilt trip people into coming to your presentation when they mistake you for serving staff. Her advice to us all was to pay it forward, mentors and role models helped us, so we need to send the elevator back down and take the time to mentor.
The final keynote we had was Dr Alfredo Carpineti, founder of Pride in Stem, and a staff writer on IFL Science. In his own words, an astrophysicist, journalist, raging homosexual.
Why raging? Well he says if you're not raging, you're not looking hard enough. People keep saying that science only cares about science itself : this is just not true. LGBTQ+ people are recipients of more harassment, have to hide their private life, and are expected to act "less gay". This is worse for our trans sisters and brothers. Alfredo showed us some frankly alarming statistics about the experiences of LGBTQ+ staff working in STEM, however when we look at the experience of students it's just as bad. Sexual minority status implies 9% less likely to complete a stem degree.
I think it's apt to finish on a quote from Alfredo: "Some science happens in a physical vacuum. No science happens in an historical vacuum."