Berkshire branch volunteers receive British Computer Society Awards
Two BCS members of Berkshire branch were presented with British Computer Society (BCS) Certificates of Appreciation as Volunteers' Week was celebrated across the country.
The certificates were presented to Chris Todd-Davies and Liz Cooper in recognition of their voluntary work for the national employment charity, Shaw Trust. The certificates were presented by Michael Grant, BCS Deputy President, at the Trust's Egham shop, on 8 June.
Chris has also volunteered for TeenTech activities for the Berkshire branch with great enthusiasm and consistency. TeenTech helps young people aged 8-18 understand the opportunities in the science, technology and engineering industries, no matter what their gender or social background. Chris has supported over a handful of these events in the Berkshire and Hampshire regions.
Photo below (L to R): Michael Grant, Deputy President, BCS; Gemma McGrath, Shaw Trust Volunteering Development Specialist; Jan Welman, Manager, Shaw Trust Egham shop; Chris; Liz; Anthony Parker, Chair, BCS Berkshire branch; Tony Levene, Volunteering Coordinator, BCS Berkshire branch.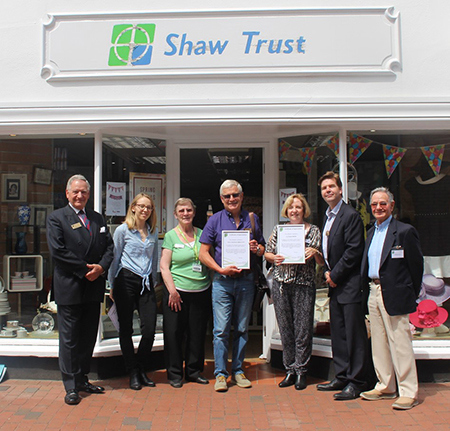 Award Winner Liz Cooper said:
"I was coming up to retirement and saw the advert in the BCS Berkshire newsletter. I'd been wanting to do volunteering in retirement, and roles that could make use of my IT skills."
"I like the feeling of being useful and the fact that the role has expanded beyond what it originally was. We've become a bit of champions for shop managers and can act as a sort of liaison between them and head office."
Award winner Chris Todd-Davies said:
"I was already volunteering in a different role at a charity in Reading and was slightly frustrated. I came to Shaw Trust through Liz partly, and they do good things especially with disabled and disadvantaged people. Here, there are a lot of personal issues not just IT issues."
"We can act as spokespeople and champion shop managers. It's also nice to know that you're still useful when you've retired!"
Shaw Trust Chief Executive, Roy O'Shaughnessy:
"I'm delighted Liz and Chris have been deservedly recognised for the invaluable support they provide to our Egham charity shop, and the expertise they bring. As with our other 51 shops around the UK, our Egham branch is not just a place to buy products and help raise funds for Shaw Trust, but it also plays a part in the community and in bringing people together."
"Volunteers' Week is a great way to acknowledge our 1,000-strong group of dedicated expert volunteers, but we really do appreciate their support all year round. Without them, our efforts to help to transform the lives of one million young people and adults each year by 2022 would be much more difficult."
Shaw Trust Volunteering Development Specialist Gemma McGrath said:
"We are so grateful that Liz and Chris joined us as volunteers. Using their computer skills, they have been invaluable in supporting a handful of our shops and by enabling our shop managers to develop their IT skills and develop in their roles. This includes Egham shop manager Jan Welman, who has gained so much from the volunteers support."
"Liz and Chris are now helping with database development and later this year will be supporting with the rollout of Salesforce (CRM software) training to shop managers."
"As a charity we would be very keen to recruit more digital support volunteers and replicate Chris and Liz's involvement in all of our 51 charity shops across the country!"
Chair of Berkshire branch British Computer Society, Anthony G. Parker, said:
"The Berkshire branch of the British Computer Society, covering Surrey, is thrilled that two local BCS members - one a committee member - have achieved such recognition for their charitable volunteering efforts. All branch committee members wish to recognise Chris Todd-Davies and Liz Cooper's efforts during Volunteers' Week: well done for their efforts!
"At the Berkshire branch, with Tony Levene as our volunteer lead, we pride ourselves on bringing IT professionalism to communities and charities and aim to make IT Good for Society in the Thames Valley, Surrey and surrounding areas."