Hampshire branch: Locations
Many of the events are now being held at The Spark building, Solent University, East Park Terrace, Southampton, SO14 0RD.
"The Spark" building, Reception (on East Park Terrace, adjacent to and north of the Library) Directions to the university.
Directions showing campus map, showing The Spark building (the most northern building, with the entrance from East Park Terrace).
This map also show the entrance to the university car park - currently parking allowed to attend the events from after 4.30pm.
To reach the car park, you drive round the university, anti-clockwise, from East Park Terrace, (with the park on your right, heading towards the docks, the university on your left) at the traffic lights, turn left into New Road (the university still on your left) turn left at the traffic lights, and you are now heading towards Jurys Inn (if you reach this, you have over shot, so turn left and repeat) while approaching Jurys Inn, you turn left into the only entrance, to enter the car park keep left, passing the barrier, and suggest immediately turn right into the car park if this is full, reverse back towards the barrier and continue round on this inner road, round the university where there are 2 more car parks on your right.
There is an entrance into the Basement floor (zero) from this first car park, then the lift on your left.
Alternatively there are outside stairs to East Park Terrace, leading to the main entrance of The Spark building.
Passing on the left of the reception, the lifts are on your left, adjacent to the stair case.
The Pod, the location for most of the meetings, is the large red "space ship" apparently floating in the air, reached from the lift, floor 3 or the stairs, via a walkway.
The Bridge, the location for most of the pre-meeting refreshments, is on top of the Pod, reached from the lift, floor 4 or the stairs, via a walkway.
Refreshments at 6.00pm on will be on "The Bridge", above The Pod, then we make our way down a floor to "The Pod "for 6.30pm for the presentation.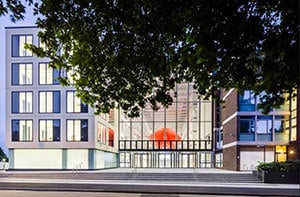 'The Spark' building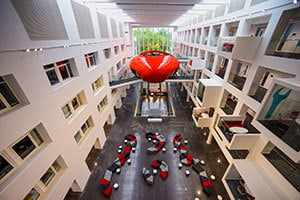 Inside 'The Spark' building