Information Security specialist group: Memorial prize
The BCS-ISSG awards a prize of £500 each academic year to the student from the Royal Holloway College who, in the opinion of the specialist group, submits the best dissertation on an information security related topic.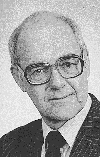 The prize is named in memory of David Lindsay, the founder and original chairman of the BCS Computer Security specialist group (the forerunner of the BCS-ISSG). David had a keen professional interest in security and it was a long held ambition of his for the Group to promote research in the subject. David died in April 1993, and to mark his invaluable contribution to the Group, the David Lindsay Memorial Prize was set up in 1994 as an annual award. It continues to this day.
The BCS-ISSG exists not only to encourage its members to adopt best practices but also to develop new techniques within the fields of computer, network and information security. It is fitting, therefore, that the David Lindsay Memorial Prize has been established to reward work of an innovative, original yet practical nature.
The BCS-ISSG gratefully acknowledges the support given by Royal Holloway College and by Hewlett Packard Limited in permitting the David Lindsay Memorial Prize to be awarded as part of the Hewlett Packard Colloquium held each December at the College.