Queen's University - Student of the Year
The School of Electronics, Electrical Engineering and Computer Science at Queen's University annual Prize Giving Ceremony was held on Friday 4 July.
The BCS Belfast Branch winner was Alan Foster who was the student achieving the highest average marks in the final Honours examination in Computer Science.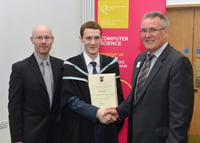 Pictured with Alan is Dr Phillip Hanna, Queen's University and Paul Hanna Committee member of BCS Belfast Branch.