Speakers
Find out more about our conference speakers.
Jonathon Wright
Jonathon Wright is a strategic thought leader and distinguished technology evangelist. He specializes in emerging technologies, innovation, and automation, and has more than 25 years of international commercial experience within global organisations. He is the Chief Technology Evangelist and heads up Product Engineering (R&D) for Eggplant a Keysight Technologies company.
Jonathon combines his extensive practical experience and leadership with insights into real-world adoption of Cognitive Engineering (Enterprise A.I. and QAOps). Thus, he is frequently in demand as a speaker at international conferences such as TEDx, Gartner, Oracle, AI Summit, ITWeb, EuroSTAR, STAREast, STARWest, UKSTAR, Guild Conferences, Swiss Testing ndyDays, Unicom, DevOps Summit, TestExpo and Vivit Community.
In his spare time he is the QA advisory lead for MIT for the COVID Paths Check foundation throughout the Coronavirus pandemic. He is also a member of Harvard Business Council, A.I. Alliance for the European Commission, Jonathon also hosts the QA lead (based in Canada) and the author of several award-winning books (2010 – 2022) the latest with Rex Black on 'AI for Testing'.
James Thomas
James Thomas is Vice President of the Association for Software Testing, a non-profit organisation dedicated to the advancement of the testing craft. Over the years he's had many roles including developer, technical author, technical support, and manager, but the combination of intellectual, practical, and social challenges in testing are what really excite him. He's on Twitter as @qahiccupps and blogs at Hiccupps.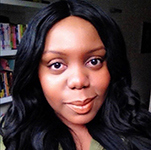 Nicola Martin
Nicola is currently working in the AI and Data Science field as Head of Quality Engineering at Adarga.
Nicola is passionate about increasing diversity and inclusion in Software Engineering. She is a panelist and speaker with over 20 years' experience in tech.
She mentors and coaches professionals wanting to either change or develop their careers. She is a mentor for the British Computer Society (BCS), and is also a BCS Council member and committee team member for their Special Interest Group in Software Testing (SIGiST), Pride and BCSWomen specialist groups.
Nicola was included in the Computer Weekly 2021 Long List for Most Influential Women in UK Tech and was a CW Women in Tech Rising Star. She has also been nominated in Global Tech Advocates Black Women in Tech 'Voices In The Shadows'.
She speaks at global conferences focusing on quality, testing, diversity in tech and mentoring.
Alan Giles
Alan Giles is Head of QA at Induction Healthcare, provider of innovative technology solutions across the secondary and community healthcare markets, with over 10 years' experience of software quality and test in a range of industries including FinTech and hospitality, especially enjoying the challenges digitisation and organisational transformation bring. Particular interests in automating apps and processes, hiring, and accessibility.
Deborah Reid
I've been testing for 11 years, mostly exploratory risk-based testing in companies such as Arcadia and currently Bloom and Wild.
I have a passion for accessibility and am keen to spread the word so we can make even more digital content accessible to as many people as possible.
Andy Shaw
Andy Shaw focused on developing a career as a software tester and has never looked back, gaining experience in testing desktop and web based software, as well as mobile applications and enjoys developing his knowledge and experience. He has also delivered talks about testing and career development, both online and at face to face events, and has recently began delivering talks about mental health.
Outside of work, Andy has many interests, including martial arts, writing, travelling and is passionate about promoting mental health awareness.
Laveena Ramchandani
Laveena is a passionate Test Manager who has been testing for nearly 10 years and is always seeking to learn and share. She's a community leader for data science testing and testing in general. Her entry on the digital platform has enhanced many individuals to learn a new area within testing.
Laveena supports her team and women around the world by providing coaching and mentoring sessions. She has provided her interview with various women in technology magazines. She is a STEM ambassador and has visited schools for females and spoken about the world of IT and how women can get involved. Laveena was a finalist for The Digital Star 2022 at the everywoman in Technology awards. She has also been on various podcasts, and blogs, trains new testers as part of the Coders Guild and is an international speaker.

Sam De Silva
Dr Sam De Silva is a Partner in the London office of leading international law firm, CMS Cameron McKenna Nabarro Olswang LLP (CMS) and is on the BSI ART/001 Committee. Sam specialises in complex and strategic IT projects and regularly advises on data protection, privacy and cyber-security issues. He also advises clients on a variety of legal and contractual issues arising from the procurement and supply of AI solutions and services. At an international level Sam is the former Law Society's representative on the EU Commission's Expert Group on Cloud Computing and is on the IT Law Committee of the Bars and Law Societies of Europe (CCBE).
Sam is on the Technology Strategy Board of the Institute of Chartered Accountants of England and Wales (ICAEW) and is heavily involved with the BCS, the Chartered Institute for IT being both on its Council and Trustee Board, together with being the Chair of its Law Specialist Group. Sam is named in the Who's Who of Information Technology 2022, Who's Who of Data Privacy and Protection 2022 and the Who's Who of Data Security 2022 as one of very few UK solicitors listed in all 3 categories. Sam is also the exclusive winner of the 2021 Client Choice Data Privacy & Protection award for the UK. Sam was the Co-convenor of an ISO Working Group which developed a new transformational ISO Standard on the management of contract and legal risk (ISO 31022:2020), and he won a BSI Standards Markers Award in the category of "Representing the UK" for his work on this. Sam also Chairs the Legal Specialist Interest Group of the Institute of Risk Management (IRM).
Adam Leon Smith
Adam is CTO of Dragonfly, a quality engineering specialist consultancy. He is also very active in the international standards community, editor and co-author of "AI and Software Testing", and Chair of BCS SIGIST.
Andrea Jensen
Hi, I'm Andrea! A tester since 2011, what started unplanned by chance I now continue out of passion. Currently, I am a Software Quality Engineer in the maritime industry by day. And a reader, crafter, curious learner and RiskStorming Online advocate by night. You can find me on LinkedIn or Twitter.
Callum Akehurst-Ryan
Callum (he/him) is a Senior Test Engineer with 13 years of experience across multiple domains from finance to public safety. His technical skills and keen interest in exploratory testing techniques, are backed up with a passion for team engagement and the advocation for the integration of testers into agile teams.
Using his background in psychology, Callum engages teams with quality narratives surrounding human factors; providing insights on how individual and diverse users will engage and experience their products in different ways.
In his spare time, he's also a kick-ass Dungeon Master.
Nuria Manuel
Nuria has just been nominated by GTA Black Women in Tech to appear in their next book 'The Voices in The Shadows II'.
Parveen Khan
Parveen is a senior quality analyst consultant at Thoughtworks. Being a quality advocate, she believes delivering high-quality products is everyone's responsibility. She loves collaborating with teams and optimizing processes, tools and methodologies to enable the creation of high-quality products. She is also an international speaker sharing her stories and experiences in testing to inspire other people around the globe. In her spare time, she plays the role of wonder woman for her two lovely kids. You can connect with her on twitter - @Parveen_Khan10 and read her stories at https://www.parveenkhans.com/.
Lewis Prescott
I'm an experienced QA Lead at Cera Care (one of Europe's fastest-growing companies), having worked across different industries including Healthcare, Non-profit, Retail and PropTech.
I am also a course author on Test Automation University & Udemy, sharing my knowledge is a passion of mine.
Beth Clarke
Beth Clarke is an Astrophysicist turned Software Engineer working at Capgemini Engineering's High Integrity Software Expertise Centre. Her work involves testing bespoke safety critical software that keeps people safe in their everyday lives. Beth joined Capgemini Engineering in 2019, and has worked on a range of projects producing software for the rail, scientific research and satellite communications sectors. Her enthusiasm and expertise in her field led to her recognition as one of the top female engineers in the UK as a finalist in the IET's 2020 Young Woman Engineer of the Year awards, and being recognised as a Rising Star of Women in Technology by Computer Weekly in 2021.
John McGee
I have been involved in testing for almost 30 years so I have seen a lot of changes in that time, I can vaguely remember the days when we used to run pages and pages and pages and pages and pages and pages (you get my drift) of scripts manually. I love exploring both software and the world around me, love helping other testers learn and grow, have setup inhouse online test events where testers from around the world share knowledge, experience and thoughts around testing, have previously spoke at various conferences and meetups Agile Test Northeast, Manchester Testbash and Ministry of Test North East among others.
Jordan Powell
Jordan is a Developer Experience Engineer at Cypress. He is passionate about writing "good code" that is easy to read, test and maintain over time. He has over a decade of experience in software development, marketing, design, and video production. Jordan also serves as the CEO & Co-Founder for the non-profit Dream On: Global. When he is not working, he spends his time as a husband, father and Cleveland sports fan.
Rob Richardson
Rob Richardson is a software craftsman building web properties in ASP.NET and Node, React and Vue. He's a Microsoft MVP, published author, frequent speaker at conferences, user groups, and community events, and a diligent teacher and student of high-quality software development. You can find this and other talks at https://robrich.org/presentations and follow him on twitter at @rob_rich.